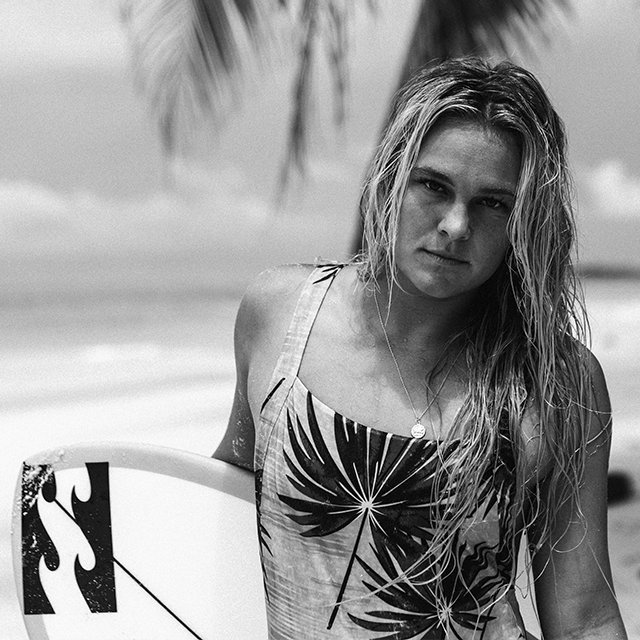 Bio
Hometown:
Perth, Western Australia - Now living in Burleigh Heads on Queensland's Gold Coast.

Sponsors:
Billabong, Channel Islands, Future Fins, The Surfboard Room

Stance:
Goofy

Major accomplishments/ career highlights:
Competed on the WCT 2012, winner of the Margaret River Pro Trials 2013, finished 7th twice on the WQS, first female to surf Cow Bombie, Nominated in Ride of the Year category 2015 XXL Big Wave Awards, first artist to exhibit at Cape Mentelle Winery (West Australia), global ambassador for the Marine Stewardship Council (MSC) and enjoying some cool artistic collaborations with forward thinking companies!

When I'm not surfing, I'm…
Creating art, designing, snorkelling, loving animals, getting outdoors, cooking, keeping busy!

To me, living a bikini kinda life means…
Long hot summer days living in your favourite bikinis!

The most amazing place I've traveled to is…
The Seychelles - some of the most beautiful beaches I've seen. Surfing hasn't really been documented there so every place that we were surfing could have been the first time waves have ever been ridden at those spots!

Favourite surf spot:
That's a pretty hard question… I think that every spot has its day and I love riding different equipment at different spots in different conditions. For shortboard surfing I'd say Lefthanders, a spot back home in Western Australia, is a goofy footers heaven! When I'm on my longboard I love The Pass, Byron Bay or Broken Head - I've had some pretty dreamy sessions out there when there's been good sand. Every now and then I love to chase some bigger waves so I'd have to say Cow Bombie in West Australia is pretty fun too! Plus I have plenty more I'm yet to get to.

Other than surfing, I'm passionate about…
I'm really passionate about marine conservation and my artwork. Wherever possibly I try and make sure I tie in an environmental message into my artwork or murals. I think as surfers we play an important role in protecting the ocean...