BODYWEIGHT SURF STRENGTH HOME WORKOUT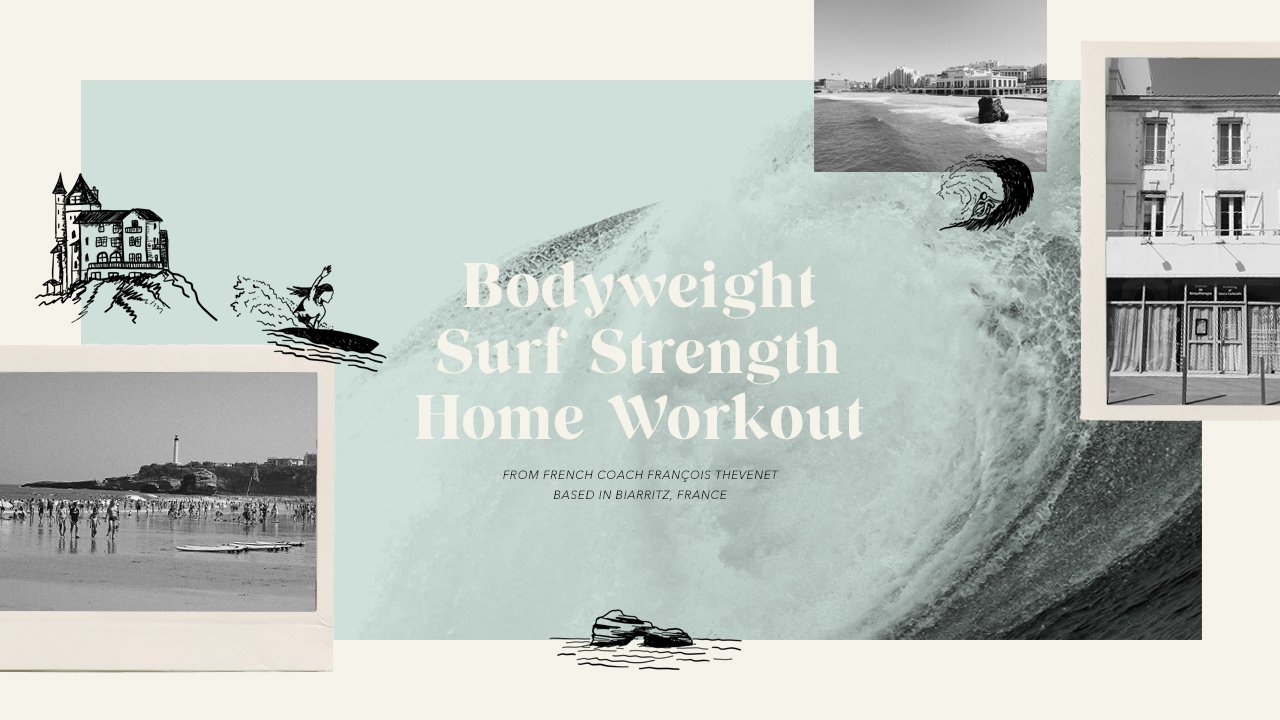 On the southwest coast of France, home to our European offices and some of the best waves in Europe, all the beaches are closed. Small surf villages, like charming Biarritz, are filled with water-lovers like us - stuck inside, unable to enjoy the waves. In France people are only allowed to leave their houses for one hour a day to get some exercise, and must stay within a 1 kilometer radius of their homes when they do.
French coach François Thevenet, who owns a small gym in the center of Biarritz, just steps from the Grande Plage (the 'Big Beach' - one of the main surf breaks in Biarritz), and who has experience training competitive surfers, wrote a body weight workout for us, to help us maintain our surf strength while we can't enjoy the waves. This workout can be done at home, with NO equipment needed.
Our graphic designer Becca (who had been training to run her 11th marathon this month before it was cancelled) demonstrates the workout for us from inside her cute French apartment in Biarritz.
Let's motivate each other, from around the world and get our bodies moving together! Put on your favorite playlist, tackle this workout, and share it with us if you do it. Just because we can't surf doesn't mean we can't keep improving our surf strength. We've got this, girls!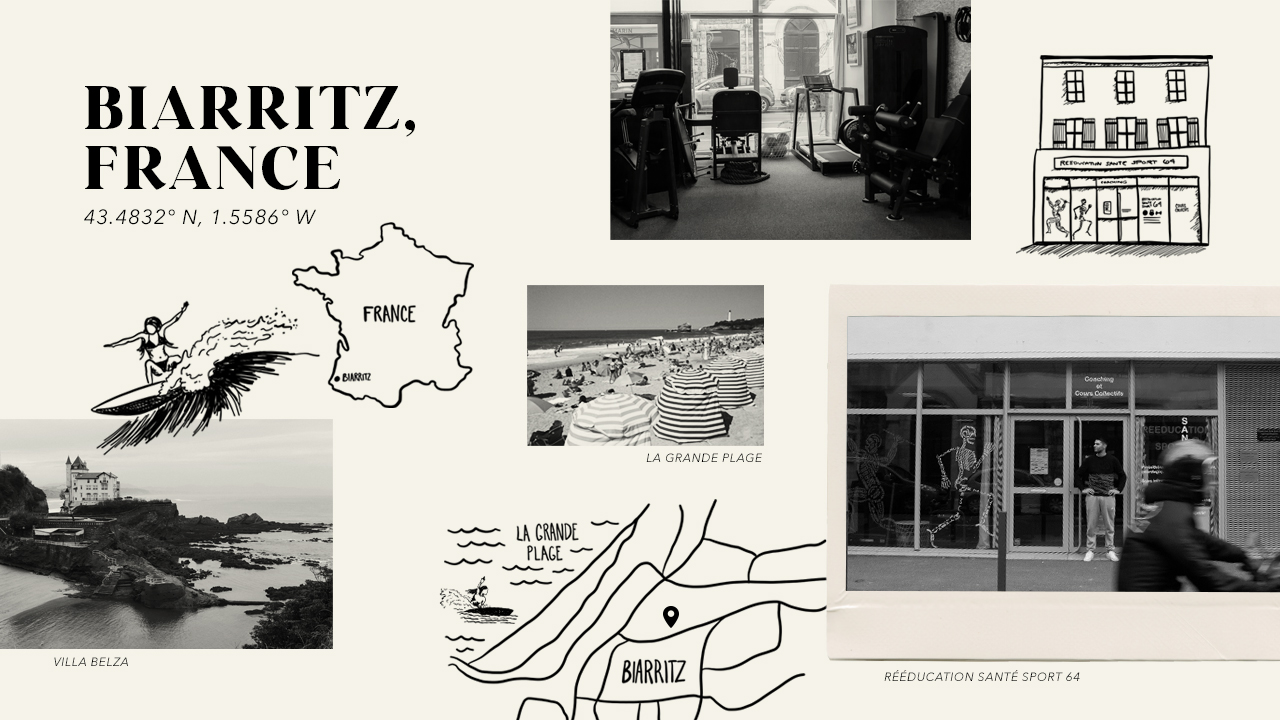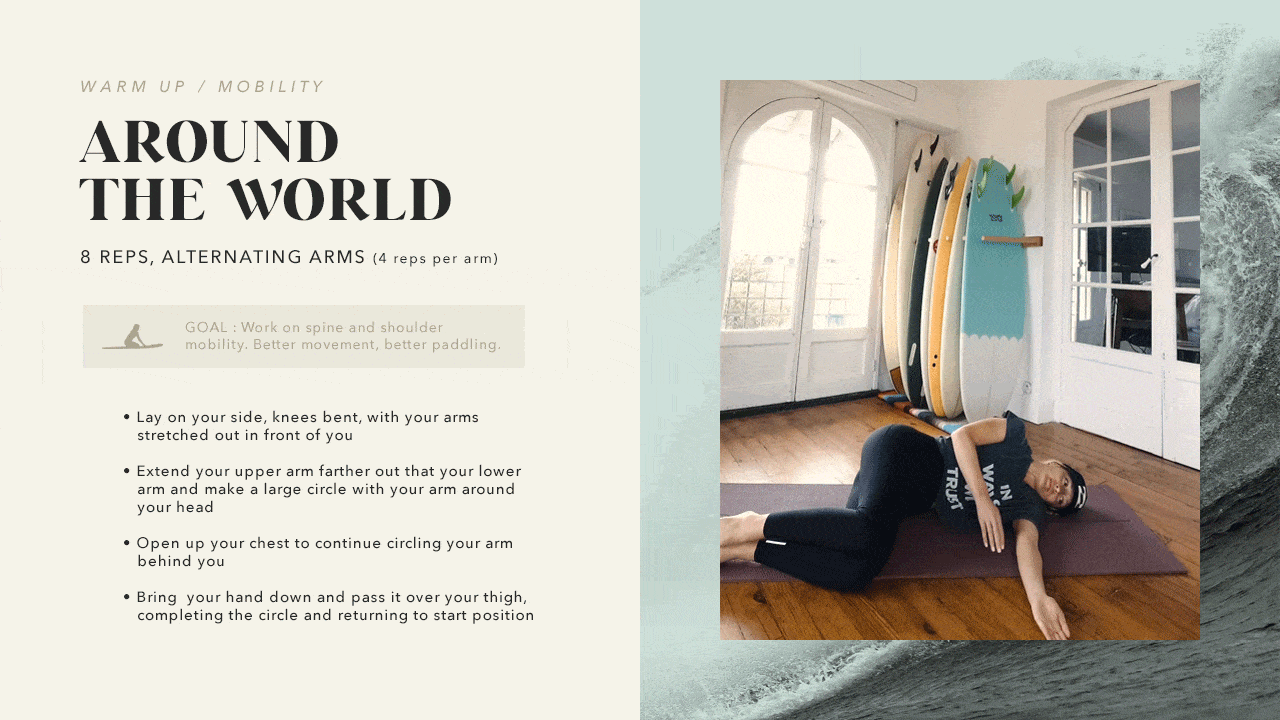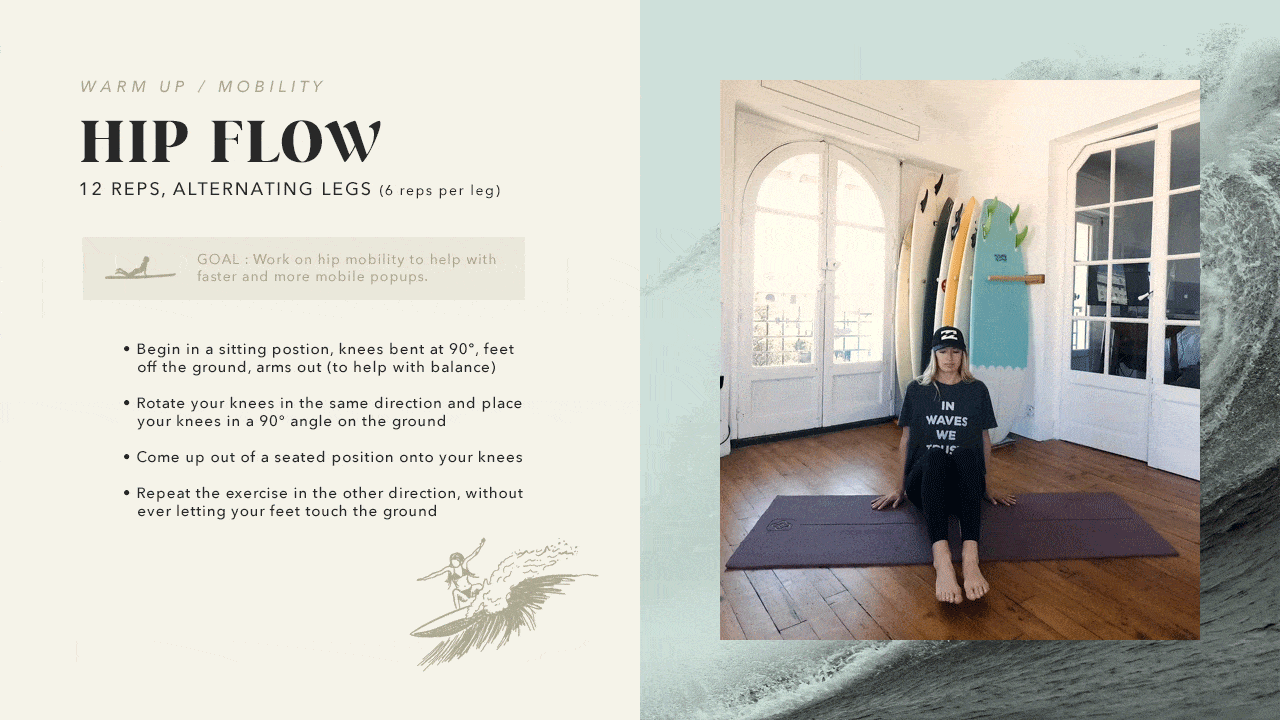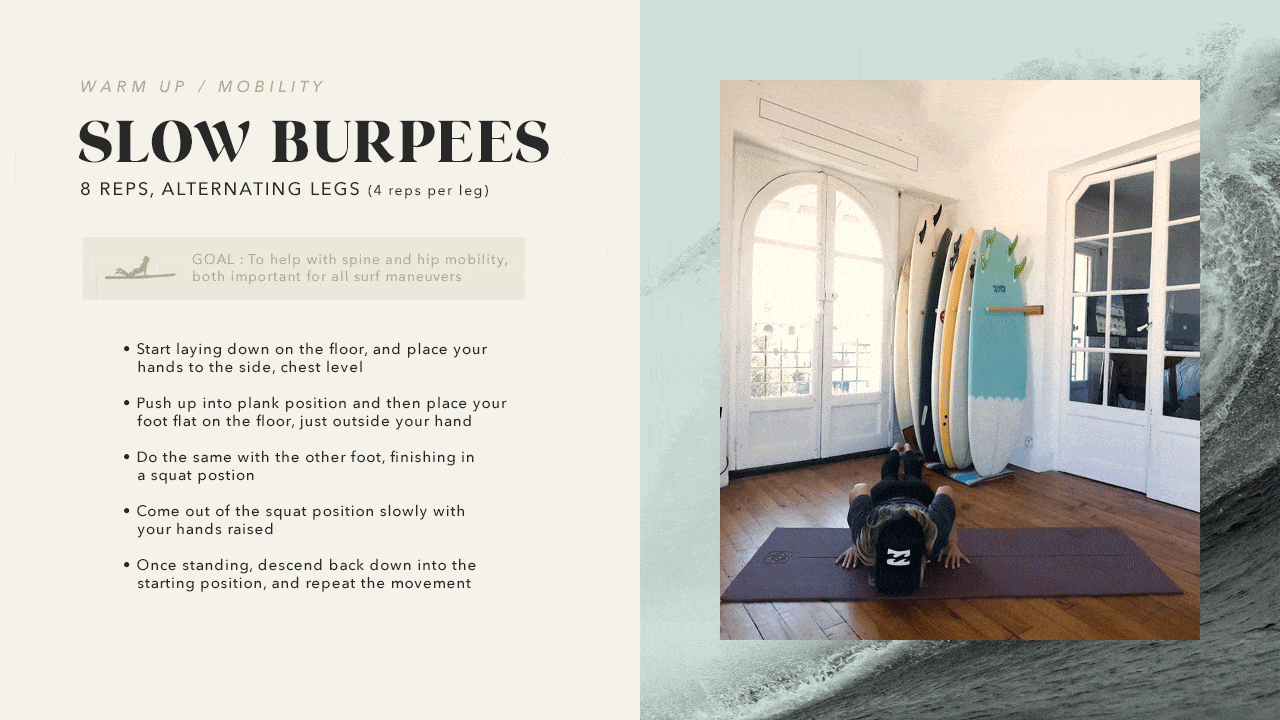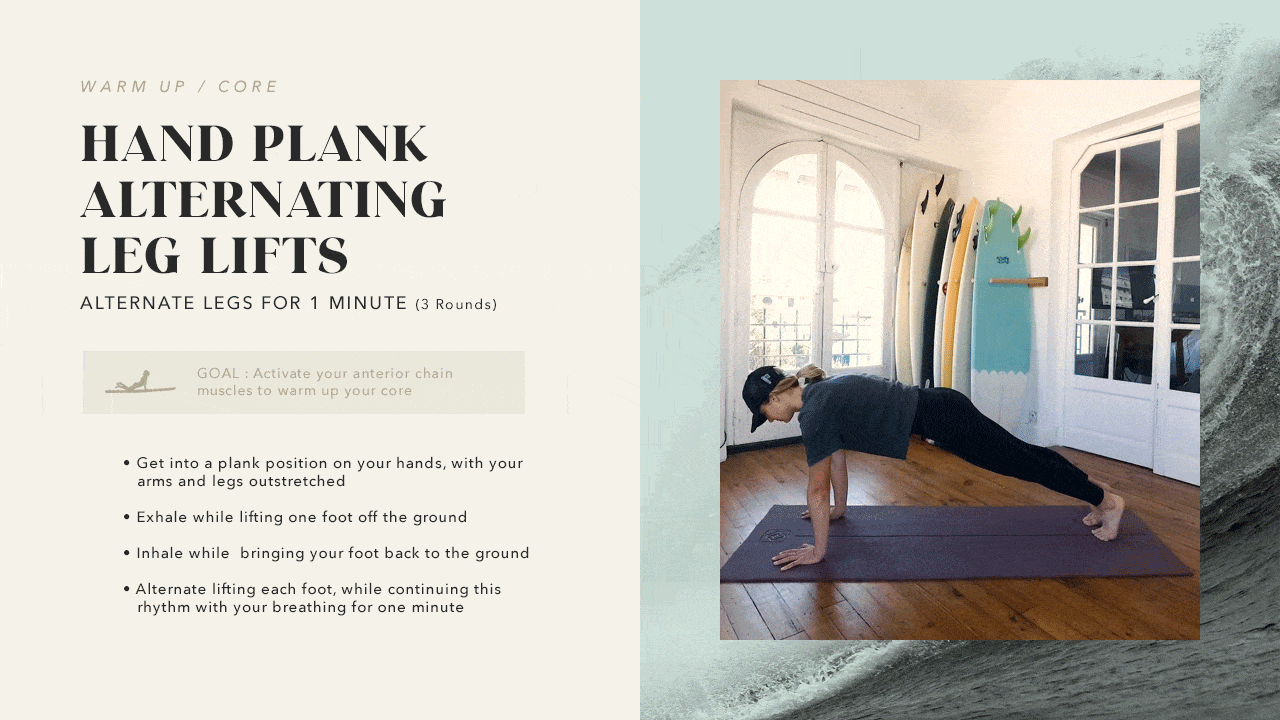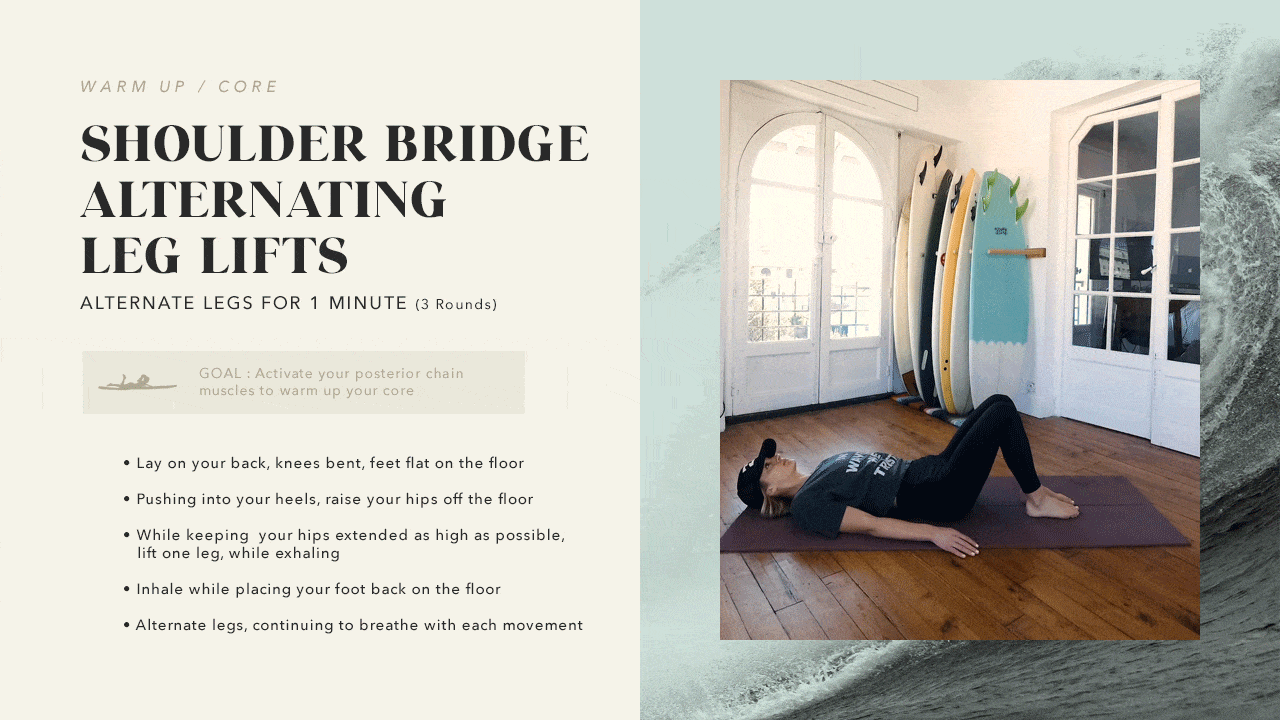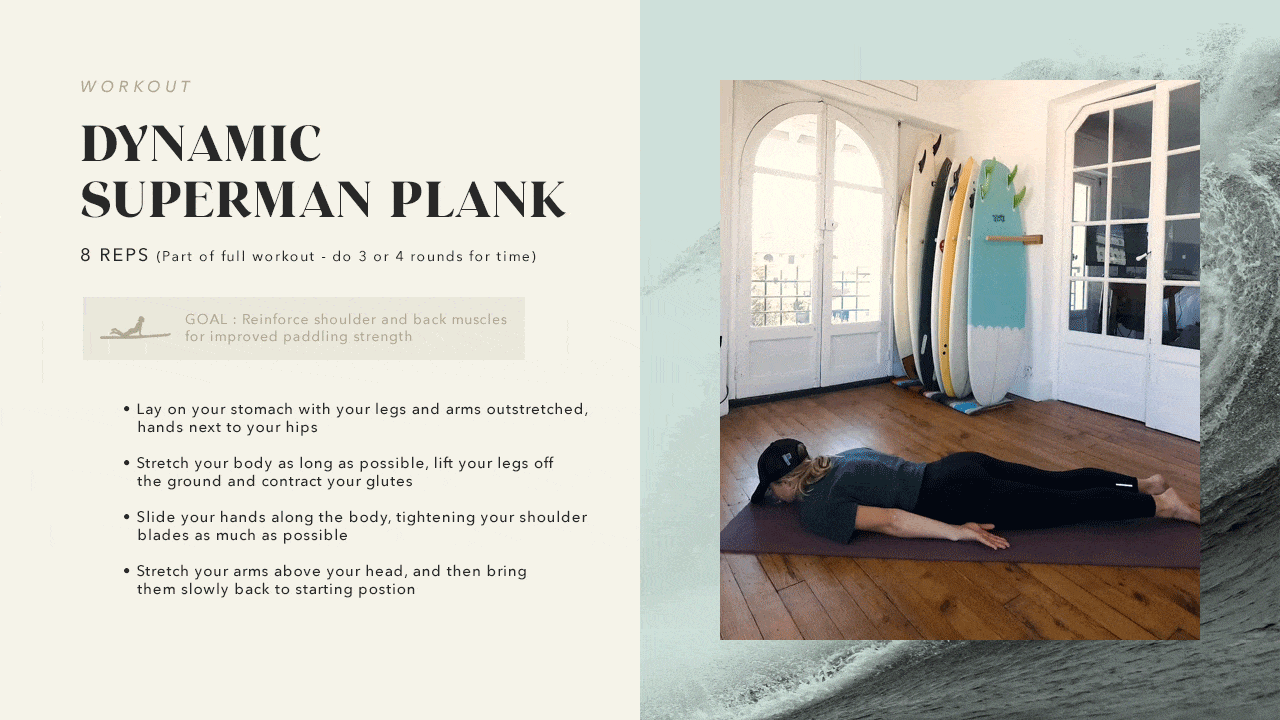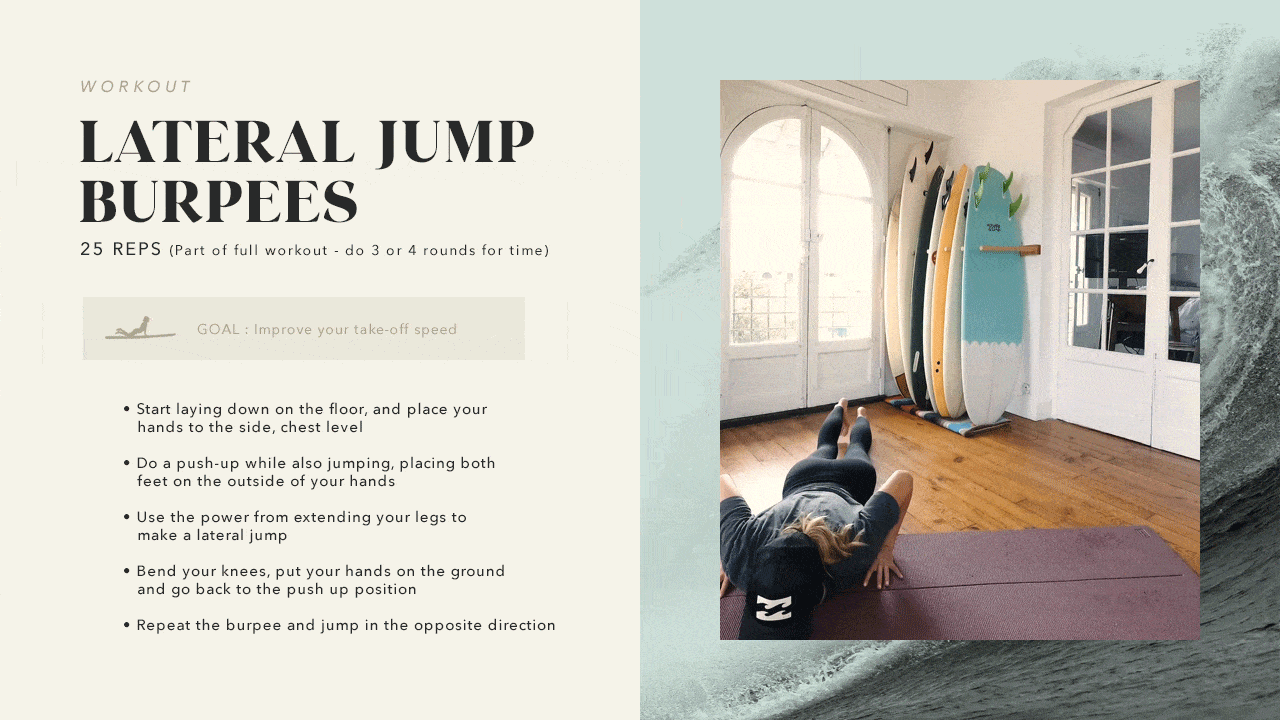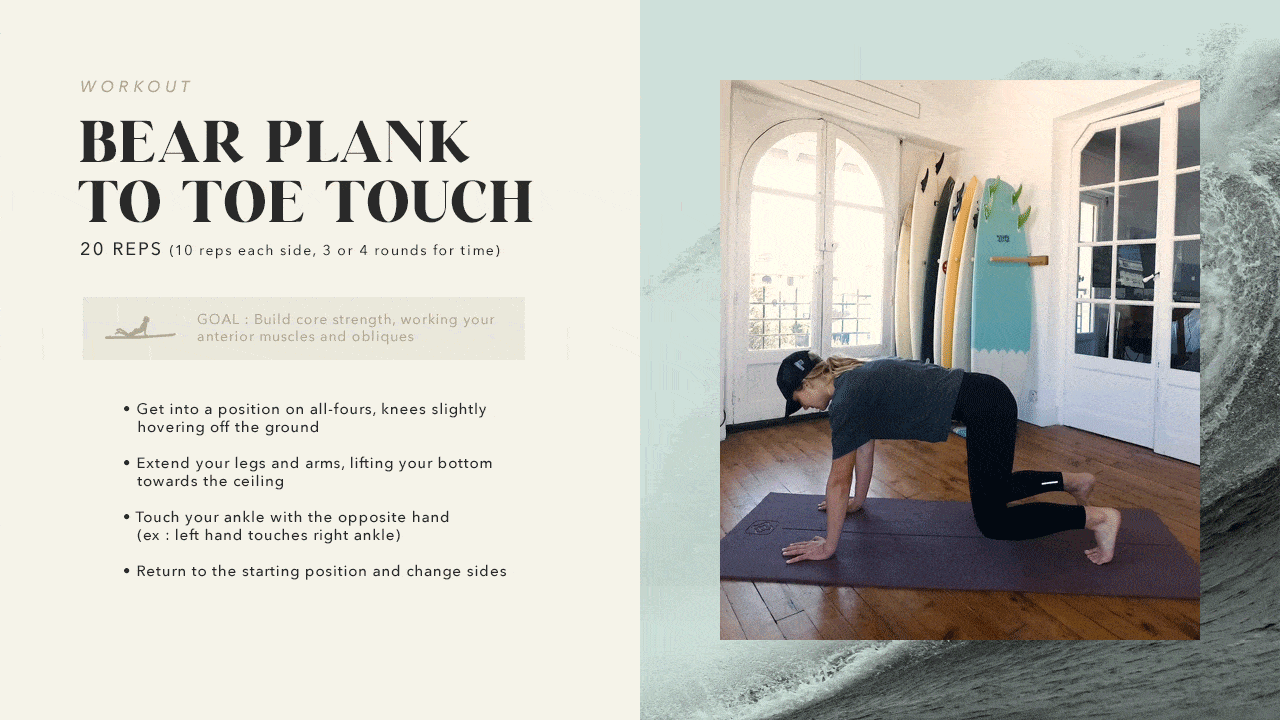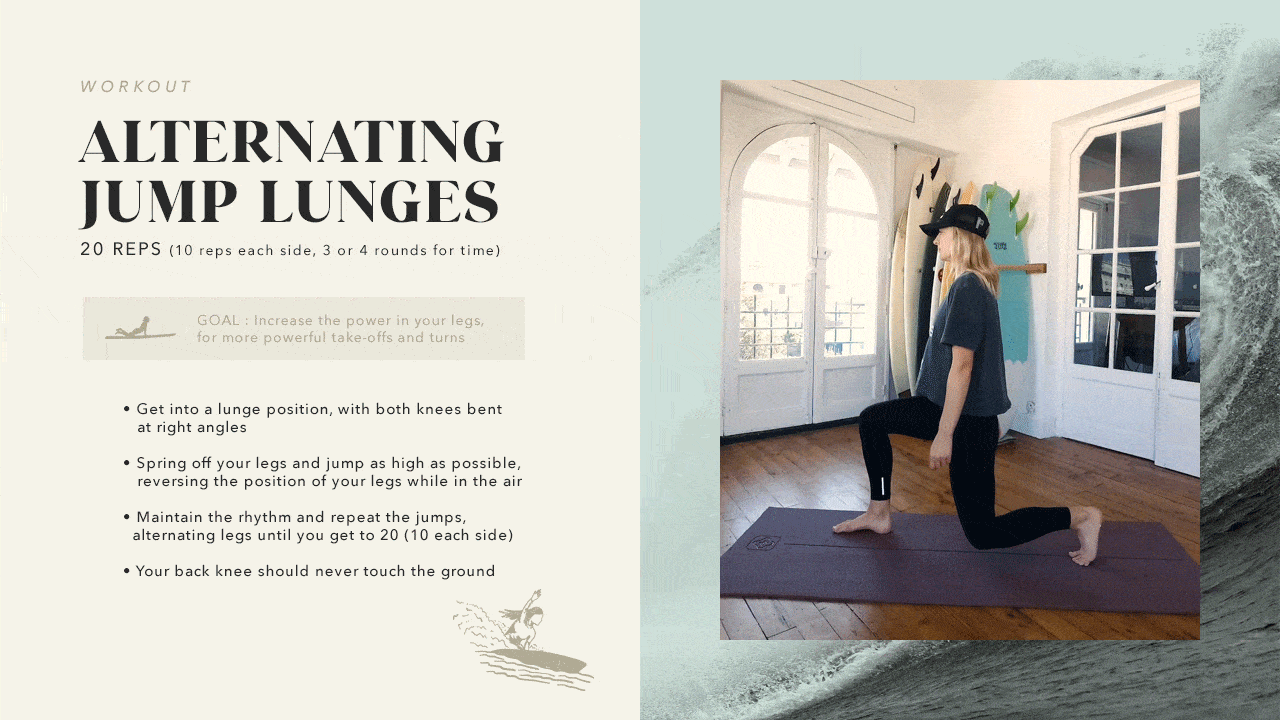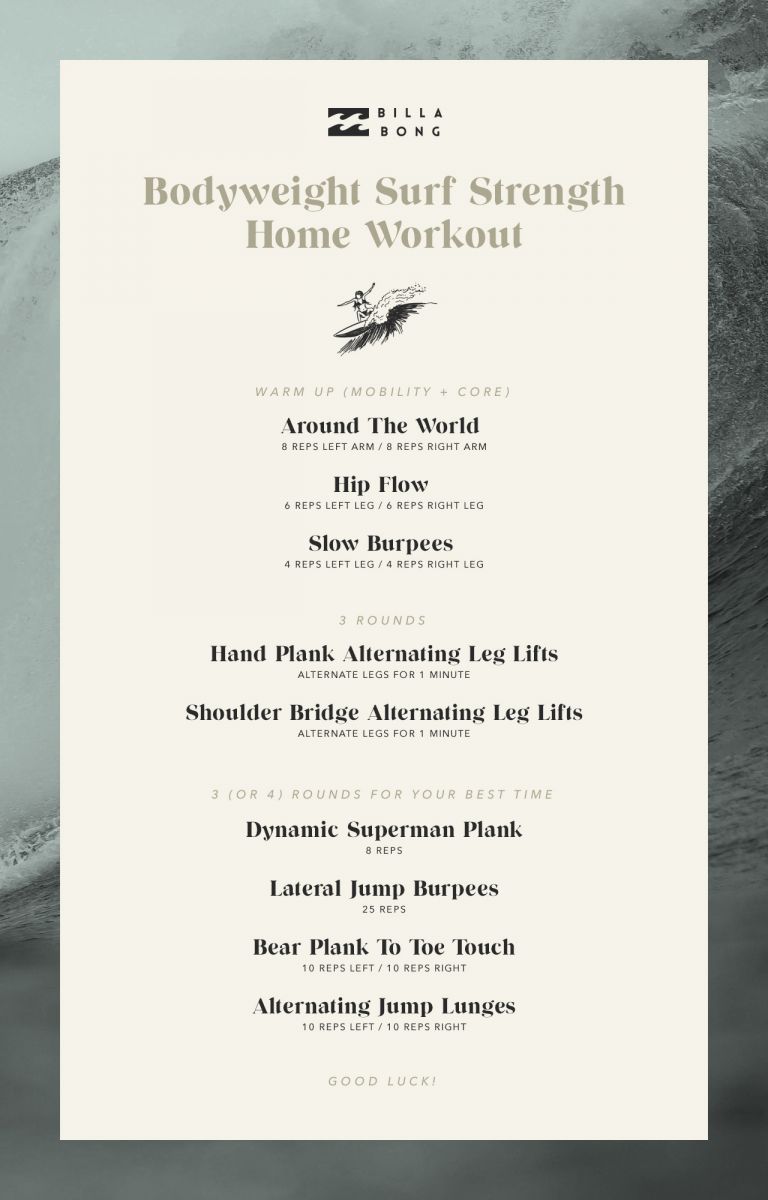 Warm Up / Mobility
AROUND THE WORLD
8 REPS, ALTERNATING ARMS (4 reps per arm)
GOAL : Work on spine and shoulder mobility. Better movement, better paddling.
• Lay on your side, knees bent, with your arms stretched out in front of you
• Extend your upper arm farther out that your lower arm and make a large circle with your arm around your head
• Open up your chest to continue circling your arm behind you
• Bring your hand down and pass it over your thigh, completing the circle and returning to start position
Warm Up / Mobility
HIP FLOW
12 REPS, ALTERNATING LEGS (6 reps per leg)
GOAL : Work on hip mobility to help with faster and more mobile popups.
• Begin in a sitting postion, knees bent at 90°, feet off the ground, arms out (to help with balance)
• Rotate your knees in the same direction and place your knees in a 90° angle on the ground
• Come up out of a seated position onto your knees
• Repeat the exercise in the other direction, without ever letting your feet touch the ground
Warm Up / Mobility
SLOW BURPEES
8 REPS, ALTERNATING LEGS (4 reps per leg)
GOAL : To help with spine and hip mobility, both important for all surf maneuvers
• Start laying down on the floor, and place your hands to the side, chest level
• Push up into plank position and then place your foot flat on the floor, just outside your hand
• Do the same with the other foot, finishing in a squat position
• Come out of the squat position slowly with your hands raised
• Once standing, descend back down into the starting position, and repeat the movement
Warm Up / Core
HAND PLANK ALTERNATING LEG LIFTS
ALTERNATE LEGS FOR 1 MINUTE (3 Rounds)
GOAL : Activate your anterior chain muscles to warm up your core
• Get into a plank position on your hands, with your arms and legs outstretched
• Exhale while lifting one foot off the ground
• Inhale while bringing your foot back to the ground
• Alternate lifting each foot, while continuing this rhythm with your breathing for one minute
Warm Up / Core
SHOULDER BRIDGE ALTERNATING LEG LIFTS
ALTERNATE LEGS FOR 1 MINUTE (3 Rounds)
GOAL : Activate your posterior chain muscles to warm up your core
• Lay on your back, knees bent, feet flat on the floor
• Pushing into your heels, raise your hips off the floor
• While keeping your hips extended as high as possible, lift one leg, while exhaling
• Inhale while placing your foot back on the floor
• Alternate legs, continuing to breathe with each movement
Workout
DYNAMIC SUPERMAN PLANK
8 REPS (Part of full workout - do 3 or 4 rounds for time)
GOAL : Reinforce shoulder and back muscles for improved paddling strength
• Lay on your stomach with your legs and arms outstretched, hands next to your hips
• Stretch your body as long as possible, lift your legs off the ground and contract your glutes
• Slide your hands along the body, tightening your shoulder blades as much as possible
• Stretch your arms above your head, and then bring them slowly back to starting position
Workout
LATERAL JUMP BURPEES
25 REPS (Part of full workout - do 3 or 4 rounds for time)
GOAL : Improve your take-off speed
• Start laying down on the floor, and place your hands to the side, chest level
• Do a push-up while also jumping, placing both feet on the outside of your hands
• Use the power from extending your legs to make a lateral jump
• Bend your knees, put your hands on the ground and go back to the push up position
• Repeat the burpee and jump in the opposite direction
Workout
BEAR PLANK TO TOE TOUCH
20 REPS (10 reps each side, 3 or 4 rounds for time)
GOAL : Build core strength, working your anterior muscles and obliques
• Get into a position on all-fours, knees slightly hovering off the ground
• Extend your legs and arms, lifting your bottom towards the ceiling
• Touch your ankle with the opposite hand (ex : left hand touches right ankle)
• Return to the starting position and change sides
Workout
ALTERNATING JUMP LUNGES
20 REPS (10 reps each side, 3 or 4 rounds for time)
GOAL : Increase the power in your legs, for more powerful take-offs and turns
• Get into a lunge position, with both knees bent at right angles
• Spring off your legs and jump as high as possible, reversing the position of your legs while in the air
• Maintain the rhythm and repeat the jumps, alternating legs until you get to 20 (10 each side)
• Your back knee should never touch the ground