Billabong Gallery Collection featuring Nate Harris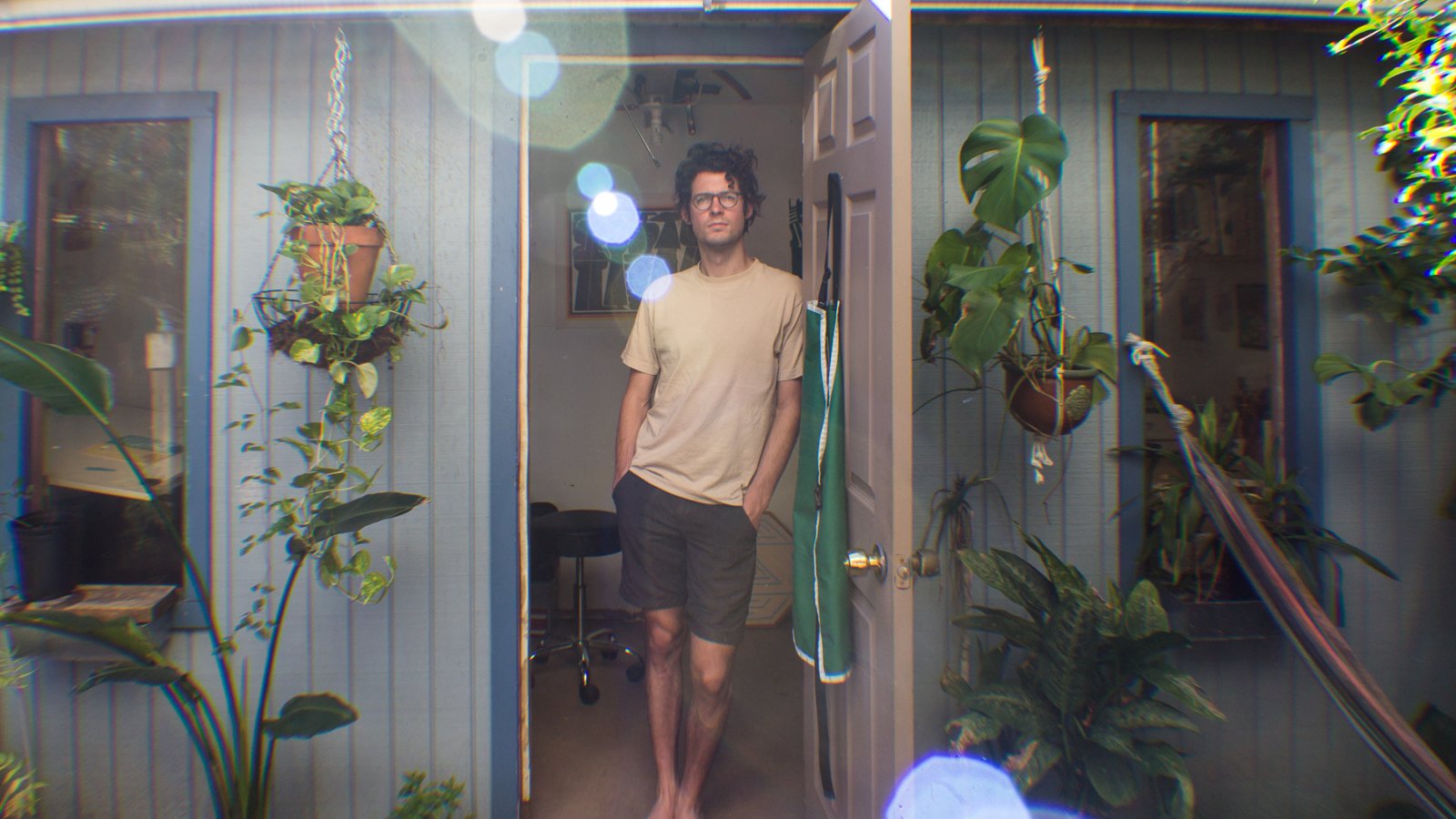 Painter. Printmaker. Woodworker. Philadelphia-based artist Nate Harris adds a new medium to his ever-expanding portfolio: your favorite Billabong boardshorts and tees.
We sat down with Nate to get some insight into the behind the scenes magic that goes into his art:
Can you tell us where you are right now?
I am sitting in a shed in my backyard which is serving as my studio at the moment.
Where did you grow up and where do you live now?
I grew up in NJ in a small, victorian suburb called Laurel Springs. Walt Whitman lived here for some time, which is our claim to fame. I currently live in Philadelphia.
What inspires you?
A lot of my ideas come from process and using different materials/mediums to spark new ways of image making. I am also inspired by how we inhabit spaces, especially cities, where we are confined by straight angles and perfect geometrically shaped buildings. We build our environments by adding our things and filling up our small spaces. I tend to fill up my compositions and interlock my characters so tightly together so much that there is no differentiating between figure and object. I'd make much different work if I lived in a rural place that was more vast.
Tell us about your studio space?
I currently split my time between a wood shop, a printmaking studio, and a shed in my backyard. I shift between spaces, depending on which medium I am currently working in. As Space 1026 (where my old studio was) transitions to their new building, I converted this shed into my current studio. However, it is a comically small space, so I can really only draw, read, or paint in here. The upside is that I've carved out a bit of a private paradise for myself back here.
You work with a lot of different mediums, do you have a favorite?
Woodcut has been the pursuit I am most excited about.
Who's art inspires you right now?
The main ones for me have been Auguste Herbin, Carol Summers, Calder, Alexander Girard.
You use a lot of wood blocks in your art? What inspired you to take this approach?
This came from part wanting to simplify my work, and part wanting to work with my hands again. Growing up, I had always liked building things with wood. I was much better at building skate ramps than skating them. When I joined a woodshop in the city, making images through the woodcut process felt like a natural path for me. However, I made a conscious decision to not use traditional woodcut methods. I was more interested in taking an age old medium and combining it with modern methods. Using a drill press, table saw, scroll saw, etc. These limitations all inform the image and brings it to a contemporary stage. I find the medium to be integrated in the image from start to finish. You end up with this duality of print and object. These objects, that are beautiful themselves, can be cut up and recomposed for new prints.
Was there a specific influence behind the collection?
Most of the work was based on a series called Scenic Rout, where I used a router to create woodcut prints, and compiled them into a book. The router creates these thick, bulbous lines, and the images only really work when the lines avoided touching each other. So I had to swirl the lines around one another, and it became very dynamic and expressive. I felt that this aesthetic resonated with the flow and motion associated with surfing.
Where can people go to see more of your art?
My website is www.nateharris.co and my Instagram handle is @procrastonate.
Can you tell us more about the art collective Space 1026?
Space 1026 is an art collective in Philadelphia that started 20 years ago. It is rooted in a DIY/skate/punk mentality and still remains that way today. We are part gallery, part screen printing studio, as well as individual studio spaces. I like being a 1026er because this place has creativity literally plastered into its walls. Everywhere you look there are 20 years worth of interesting things crammed in corners and hanging from ceilings. It is a contradiction to my neat and organized tendencies, and keeps me thinking loosely. However, similar to a lot of arts organizations, we lost our building. We had a donation campaign to help purchase a new space, and now we are building out that new location which is set to open September 2019.
When you're not creating art, how do you spend your spare time?
I admit to having tunnel vision for making things, and this generally consumes my time. I have been learning some old synthesizers and have been slowly working on an electronic album. Going to shows and supporting the creative community in Philly. I like to travel a lot but like to have a reason to be in that place, such as a residency or exhibition. It all comes back to making things and being creative.