What To Pack for Any Type of Surf Trip: Men's Guide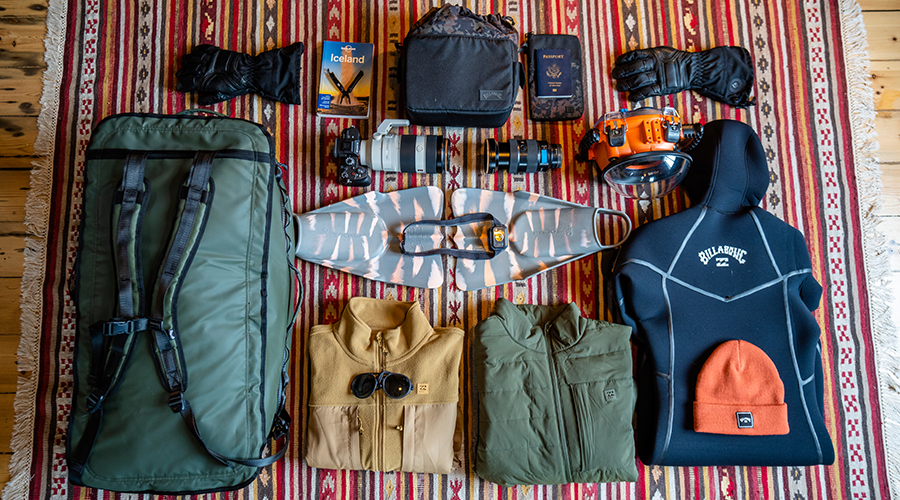 There are two types of gear when packing for any surf trip: the "must-haves" and the "nice-to-haves." Keep this in mind as you start to weigh the costs of being underprepared vs. lugging extra board bags and paying overweight luggage fees.
To help with the math, we've outlined what we believe are the essentials for any given surf trip. It basically answers the question: "What is the bare minimum I need to pack to make sure I'm surfing in comfort?"
Packing Essentials for Any Surf Trip
Surfboard
Although it's the most cumbersome and takes up the most space, packing your own surfboard is still recommended over renting or borrowing. You're going to be dealing with a lot of new variables in unfamiliar waters, and it's always nice to have control of the most important one (a surfboard you know and trust).
However, there's no "one size fits all conditions" surfboard, so have a good understanding of the type of waves you're traveling to and the swell forecast. If conditions are likely to be much bigger than what you typically ride with your go-to board, you should consider bringing an extra "step-up" (a board 2 inches longer) or more. The goal is to pack as few boards as necessary but still have a back-up plan if your main board breaks or is too small. This will vary by individual and destination.
Travel Board Bag
Whether you're heading an hour down the road or halfway around the world, you want your board(s) to be protected when you travel. There are a handful of light, protective bags on the market both for air travel and road trips. Our recommendation is to use a board bag no more than a few inches longer than your surfboard. You want it to be packed tight so there's minimal movement within the bag itself.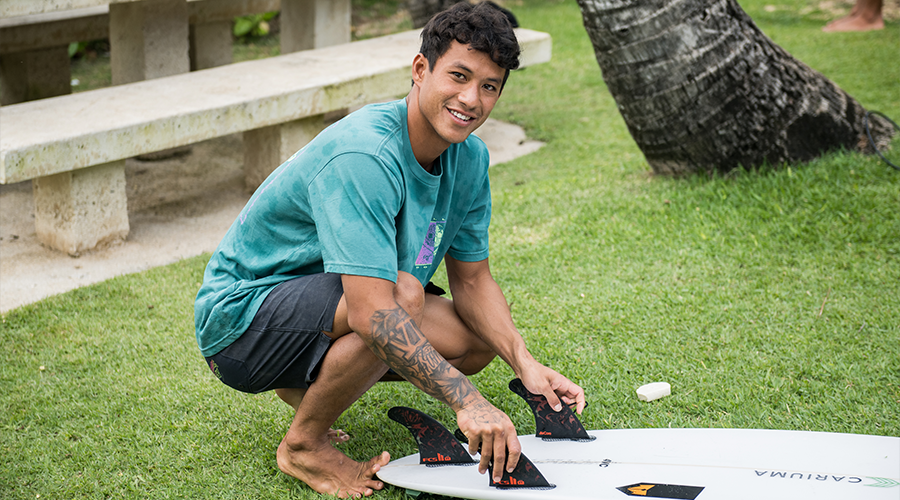 Surfboard Accessories
The first layer of accessories is critical and should be kept together in one "don't-leave-home-without-it" kit:
Fin Systems: Bring your favorite set of fins and at least one backup pair. If they're anything other than FCS2, make sure you bring fin keys and several slightly larger Allen wrench backups in case one gets stripped. It happens. A lot.
Leashes: Leashes not only save your board from damage, they also make great bartering tools in popular surf areas. Bring a few if you can, and make sure you have at least one thicker 6 or 8-foot leash in case conditions creep up into the well overhead zone. Bonus: bring a couple of extra leash strings in case one breaks as well.
Wax: You'll be amazed at how hard it is to find wax when you desperately need it. Eliminate the stress. Understand the water temp you're heading to and pack a few bars with the right formula. You might even make a friend when you're the only one in the parking lot with wax.
Roof Straps: These may not seem essential, but there are countless times when roof straps have made all the difference for a traveling surfer. Whether they solve the rental car space crunch or enable you to hire a taxi or uber, these easy-to-pack straps will be your lifelines more often than you think.
Repair Kit: Travel inevitably increases the chances of your board getting damaged. To help mitigate the risk, bring your own UV-cured resin repair kit. They're easy to pack and will prevent minor dings from becoming major headaches.
Surf Accessories
After your surfboard must-haves, here are four additional surf-session essentials that will enable more time in the water and less time searching for the nearest surf shop.
Towel or Changing Towel: Trust us, changing in the parking lot without a towel can be awkward — especially if you're a visitor. Be sure to pack a towel or two in your boardbag. They'll be right there when you need them most, plus, they double as padding for your board. If you prefer not to risk a towel-change malfunction, changing robes are another good option and can also easily fit in your board bag.
Water Bottle: Bring your reusable water bottle with you to stay hydrated with a lighter footprint. Important: Avoid unnecessary dings. DO NOT pack your water bottle in your board bag.
Sunscreen: It doesn't matter if it's cold or warm. Sunscreen will prevent you from feeling the burn. Bring it — and buy only reef-safe sunscreen.
Ear Plugs: Few things end a surf trip faster than an ear infection. Even if you're not a regular ear-plug wearer, it's a good idea to bring a pair. There's no telling how your inner ear might react to foreign waters.
Swim Fins: This might not seem intuitive, but a good pair of fins can be your insurance policy to having fun on any surf trip. If you break your boards, a good bodysurf (enabled by a good pair of fins) is almost guaranteed to put a smile on your face.
What To Add for a Day Surf Trip
If you're planning to extend your surf search for a full day, it's good to consider a few add-ons to keep you hunting.
Cooler
Small portable coolers serve as your own personal refueling station wherever your mission takes you. Make sure to pack it with plenty of liquids and easy-to-eat, high-energy foods.
Day Trip Clothes
Equipment
Beach Umbrella: A beach umbrella or covering helps you create shade wherever you need it. Important: make sure your umbrella is easy to pack and fits in a board bag. You don't want it to take up an extra hand.
Speaker: Portable speaker options are limitless and add a soundtrack to fond memories. Keep it pocket-size to minimize bulk.
Changing Mat: There are a handful of packable changing surface options that could make the pre and post-surf transitions dirt and sand-free. If you do choose to bring one, make sure it's weightless and packable.
What To Add for a Weekend Surf Trip
If you're extending your day trip to a long weekend getaway, consider adding a few more essentials to keep you ready for whatever.
Extra Boards & Accessories
More days equals more time in the water and more time to experiment with equipment. If you have the room, we recommend bringing that one "alternative" board you've been dying to try but just haven't been willing to sacrifice a whole session for. Asym, mid-length, fish… roll the dice!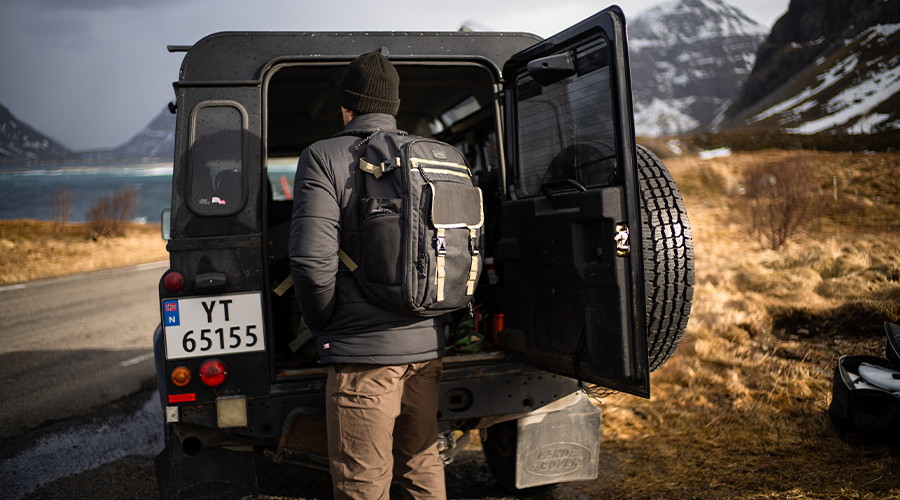 Backpack or Duffle Bag
We recommend two bags for any extended road trip. One for storing "non-surf" essentials (layers, an extra change of clothes, toiletries) and one wet/dry bag for your surf treks. That way, you'll minimize the risk of a soggy sweatshirt.
(h3) Weekend Trip Clothes
Electronics & Equipment
Phone Charger: A portable phone charger in addition to a USB charger can be helpful – especially if you're adventuring in an area with limited service. Batteries tend to drain quickly in these zones.
Action Camera: It's always fun to share highlights from a successful surf mission – whether it's you or your friends. Including a waterproof action camera gives you the best chance of showing your crew "what it was really like."
Portable Shower: Having a way to rinse off with fresh water – especially after a good surf session somewhere off the grid – can feel better than a spa treatment. There are a number of easy-to-pack portable shower options out there. A good one to add as long as you don't have to carry it too far.
Hanger or Makeshift Clothesline: We already mentioned how "un-fun" putting on a wet wetsuit can be. Bring along some paracord and set up a line between two trees near the campfire. Dry, smoky wetsuits are better than cold, soggy ones.
Surf Bucket: If traveling by car or truck, a surf bucket is great to keep all the wet things in one place while in transport. Important: don't let them marinate for more than a day.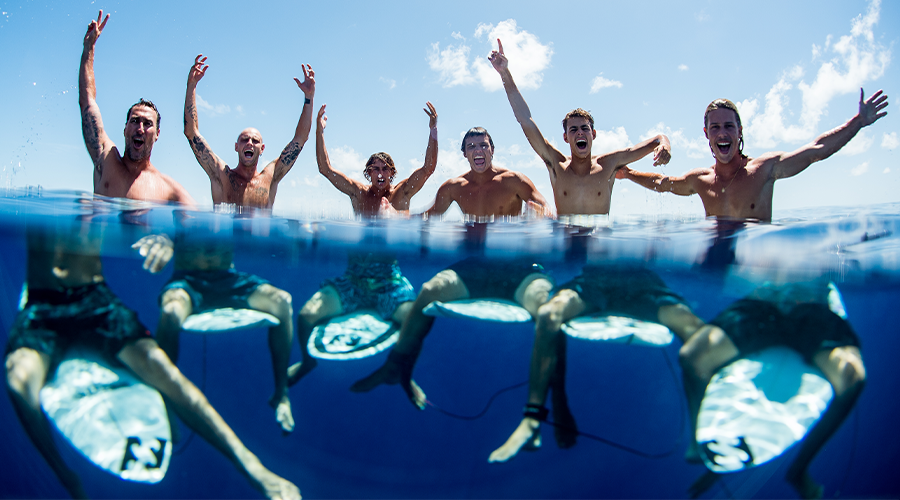 Toiletries
Toothbrush and Toothpaste: Overnight trips mean overnight essentials. And while individual needs will vary, we'll venture to say dental hygiene is the first thing you want to have covered.
Bodywash: Keep it simple. Bring a one-bottle solution that will keep you fresh for a few days. No need to bring the entire glam squad.
Hydrogen Peroxide: A small bottle helps prevent small cuts from infection.
Insect Repellent: Mosquitoes rule the night. If you're in a place where there's a lot of them, make sure you have something to keep them at bay.
Triple Antibiotic Ointment: Another must-have to help ward off infections. Apply after the hydrogen peroxide.
What To Add for an International Surf Trip
An overseas surf trip shows true commitment – that you're willing to endure a few travel inconveniences in order to score an abundance of exotic waves. The recommendations below give you a better chance of making the extra effort worth it.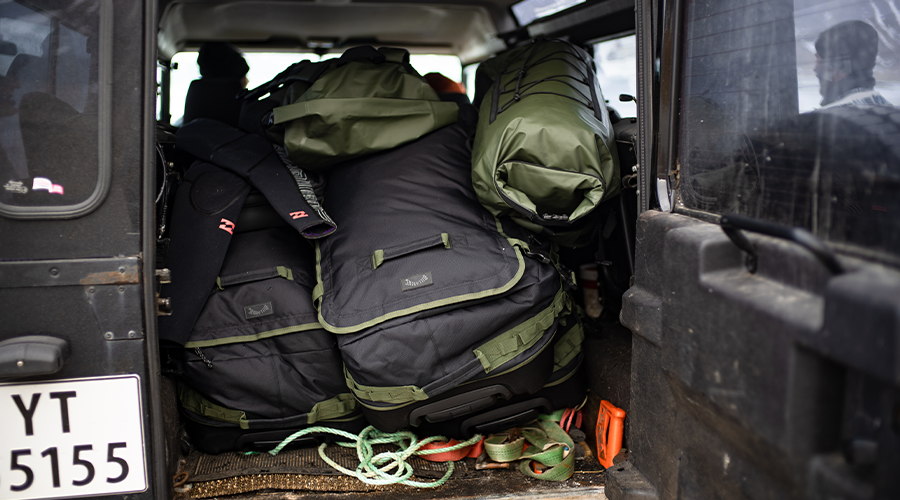 Luggage & Carry On
Your carry-on (preferably a good-size backpack with multiple compartments) should be your life kit. If you lose your luggage and boards and everything else, what's in your carry-on might be able to save your trip. That might include an extra change of clothes, a pair of boardshorts, laptop, toiletries and all of your critical personal items. Check-in luggage should be tight. Surf trips aren't fashion shows. Bring gear that you can wear over and over again.
International Trip Clothes
International surf trips might inspire extracurricular activities beyond your targeted surf destination. Here are a few apparel items and accessories to add to your consideration list:
Sandals: Useful for many reasons in both warm and cold climates. A good pair of sandals should be with you wherever you go.
Waist Pack: A waist pack (yes, they're cool again!) can keep all of your key valuables safe, secure and away from prying hands.
Mini First Aid Kit
The more remote you are, the more you should be prepared for what "could" go wrong. Here are some additional First Aid recommendations to the above that might make a difference if help is a long way away.
Waterproof Tape/Gauze: This combo will keep most pesky reef cuts padded, protected and – most importantly – keep YOU in the water.
Painkillers/Anti-Inflammatories: Lots of surfing will create soreness and stiffness in muscles you didn't even know you had. Anti-inflammatories such as ibuprofen can help take the edge off.
Epinephrine Auto Injector (EpiPen): An EpiPen is your best solution to severe allergic reactions.
Iodine Tablets: Don't just hope the water is safe to drink. Add a guarantee to your h2O by bringing along Iodine tablets for water purification. Especially useful when you're camping and drinking water from streams and rivers of unknown origin.
Extras
Travel Insurance: Travel insurance is one of those things you never need until you actually do. And the more trips you take, the more likely you will. Investing a little extra up front could save you when the travel gods are not in your favor.
Book: Time on the road creates "white space" to unplug, and a novel is one of the best companions to have on a good, long surf trip. Where to start? We recommend a few of surfing's most acclaimed novelists, including Kem Nunn, Tim Winton and William Finnegan.
Travel Pillow: Prevent a bent neck before you get off the plane. Travel pillows will make economy middle seats almost bearable. Almost.
Adapter: Before your trip, do research on what outlets your destination country uses. Bring a universal adapter with you to eliminate any stress on the phone/laptop-charge front.
Gifts From Home: One of the biggest benefits of traveling abroad (beside the waves) is connecting with new people, cultures and communities. Think about some small, unique items you can bring from home to share with your new friends. It brings the world closer together!
Being a good traveler is an exercise in preparation, planning, discipline, humility and also being flexible enough to go with the flow. Follow these tips on packing for any type of surf trip, and you've immediately increased your chances of having a good time. Bon voyage!