Wetsuit Thickness & Temperature Guide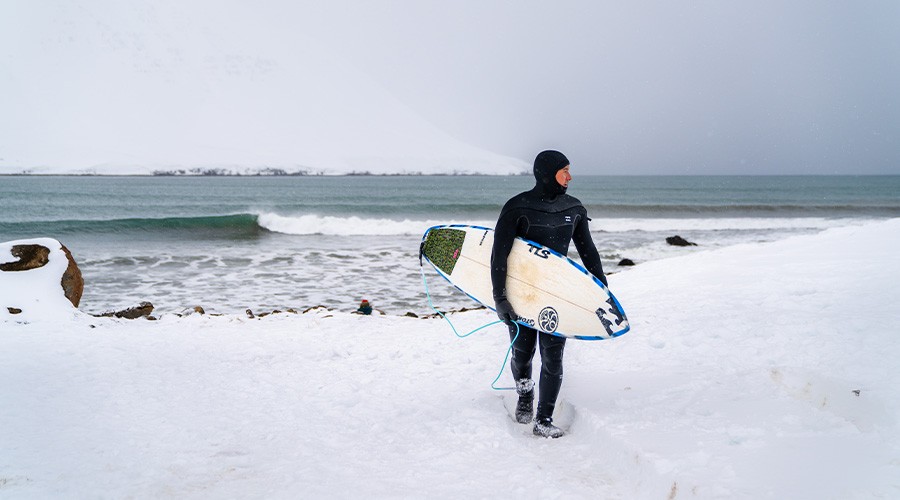 A wetsuit's thickness is based on the measurement of the internal foam core. In general, the thicker the foam core, the warmer the suit. On the flip side, the thinner the foam core, the more lightweight and flexible the suit. Water temperature is the main factor in determining the right wetsuit thickness for you.
Wetsuit Thickness & Temperature Chart
Water Temp. (°F)
Wetsuit Type
Wetsuit Thickness
Best For
Booties, Gloves, Hood?
73°+
Rashguard
.5mm
Sun Protection
N/A
73°-70°
Wetsuit Jacket
1-2mm
Wind Chill Protection
N/A
73°-70°
Short John / Short Jane
2mm
Flexibility in Warm Climate
N/A
69°-66°
Spring Suit
2mm
Comfort/Flexibility in Warm Climate
N/A
69°-66°
Long John / Long Jane
2mm
Flexibility/Knee Paddling
N/A
69°-66°
L/S Spring Suit
2mm
Warmth in Cool Climate
N/A
69°-66°
S/S Full Wetsuit
2mm
Warmth in Cool Climate
N/A
65°-60°
Full Wetsuit
3/2mm
Warmth and Performance
Optional: 3mm booties
59°-55°
Full Wetsuit
4/3mm
Warmth and Performance
3mm booties
Optional: 3mm hood
54°-50°
Hooded Full Wetsuit
4/3 mm or 5/4mm
Warmth and Performance
5 mm booties
Optional: 3 mm gloves
49°-45°
Hooded Full Wetsuit
5/4mm
Warmth and Performance
5mm booties
5mm gloves
44° and below
Hooded Full Wetsuit
6/5mm
Warmth
7mm booties
7mm gloves
In water temps that have multiple wetsuit-type options, the best choice for you ultimately comes down to personal preference, i.e. whether you like more flexibility and freedom in the arms versus more complete coverage.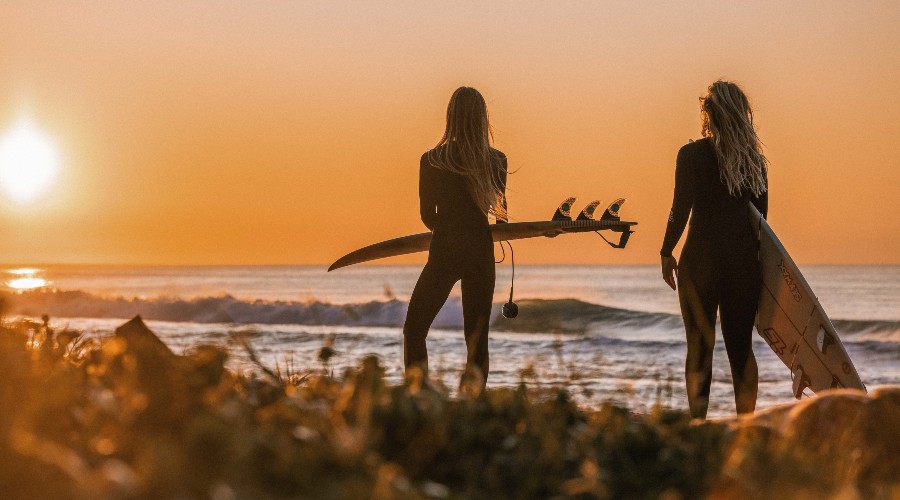 How Does a Wetsuit Work?
Today's high-end wetsuits can make surfing in the world's coldest waters not just bearable, but totally comfortable. A marvel of modern construction and technology, the theory behind a wetsuit is simple: insulate your body heat to keep you warm in cold water.
Most wetsuits are designed with three layers:
Outer jersey: typically made of nylon, polyester and Spandex
Internal foam core: traditionally made from neoprene but there are also natural rubber solutions in the market
Internal jersey or heat-conducting lining: typically in the form of polyester and nylon fibers
While surfing wetsuits don't keep you totally "dry" in the areas of coverage, the minimal water they do let in quickly warms up due to the insulating properties of the neoprene and lining combined with body heat. The result — as long as you choose the right wetsuit thickness — is a comfortable surfing experience in even the chilliest of waters.
Wetsuit Thickness
Wetsuit thickness is measured in millimeters or mm. When you see fullsuits, aka steamers, listed with multiple thicknesses such as 5/4mm, the suit is constructed using the thicker, warmer panels on the torso and the thinner panels on the legs and arms to maintain maximum mobility.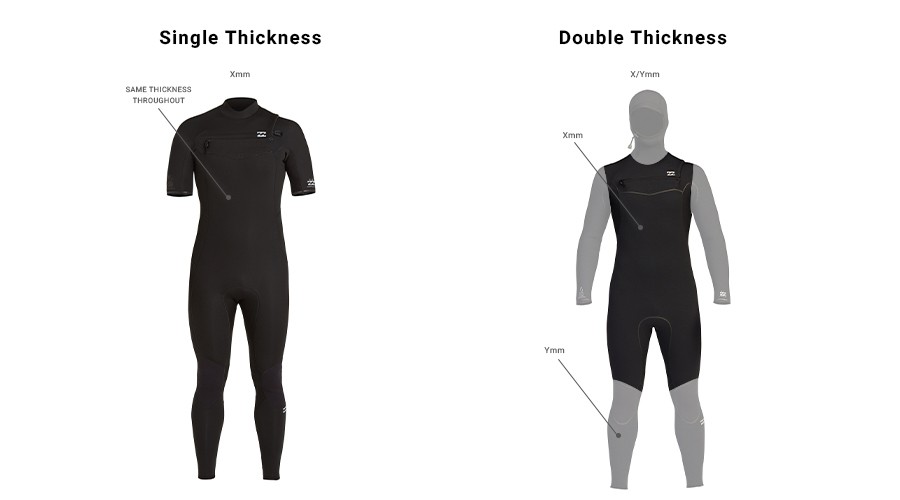 Surf Seasons and Conditions
As outlined in the chart above, surfing wetsuit thicknesses range anywhere from 0.5mm in warm water up to 7mm in the coldest waters. Optimal thickness and wetsuit type can shift in many regions based on the season. For example, in Southern California, average water temps hover in the high 60s in the summer. Short-sleeve full wetsuits, spring suits and even wetsuit jackets are the norm during this time. But as the seasons shift from fall to winter, most surfers transition to 3/2 full wetsuits and 4/3 full wetsuits as water temps dip to the mid 50s during the coldest months. It's important to have a few different options of wetsuit types and thicknesses based on the shifting temps in any given region.
Wetsuit Seam Seal Types
A wetsuit is made by fusing multiple panels of neoprene together. The point where these panels meet is known as the seam and it plays a critical role in the overall warmth, flexibility and comfort of a wetsuit. All seams are made to keep some if not all water out, but a fully-sealed suit does it best. The three main seam constructions are as follows: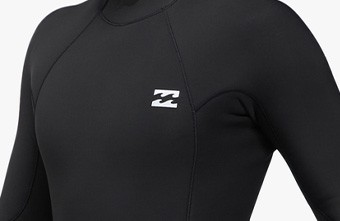 Flatlock Seams
Common on warm-water wetsuits, flatlock seams are stitched inside and out. They are highly durable, flexible and comfortable but are not sealed to keep water out.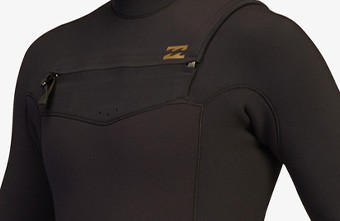 Glued and Blindstitched Seams (GBS)
Seams are glued, fused and then stitched together on the outside without piercing through. This creates a strong watertight seal. An internal neoprene tape is sometimes added in high-use areas for extra reinforcement.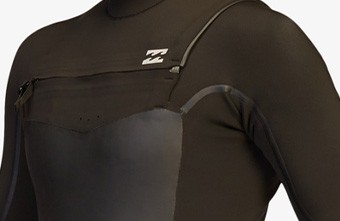 Liquid Sealed and Taped Seams
Common in high-end wetsuits designed for the coldest water, the exterior seam is sealed with silicone-based liquid for a long-lasting, watertight seal. Sealed neoprene tape is added internally for additional reinforcement.
Activity Level
The type of wetsuit most suitable for you also depends on your activity and activity level. High output activities, like triathlons and competitive swimming, often require thinner wetsuits that don't trap as much body heat and are specifically designed for a wide range of motion. Surfing, on the other hand, often requires thicker wetsuits to keep the body warm while waiting for sets to come in, since the nature of the sport does not require constant movement.
Other Factors to Consider Besides Water Temperature
Water temperature is the main influence in choosing the right wetsuit thickness but there are other factors to consider:
Air temperature: This is usually linked to water temperature but in some cases changing weather conditions or currents can create a gap between the two. Don't presume that warm weather means warm water or vice-versa.
Wind: Wind chill is just as important as water temperature. Although quality wetsuits should feature wind-repellent technology in the interior lining or the neoprene exterior, icy winds can call for a warmer wetsuit or a neoprene hood, gloves or booties.
Personal preference: Gauging your own tolerance to cold water is important. If you are more sensitive than average, you may need a thicker wetsuit.
Wetsuit Accessories
When water temperatures dip below 60°F, wetsuit accessories will help keep your head, hands and feet warm, which contributes to your core warmth too. The three main categories of surf accessories are:
Wetsuit Boots that keep your feet warm and provide protection and grip
Wetsuit Hoods that protect your head and ears from icy winds
Wetsuit Gloves that are prime for sub 55°F water temps
Now you're fully equipped with the knowledge to pick the perfect wetsuit for your surf conditions. For more info on neoprene accessories, check out our "Wetsuit Accessories Guide".
Related Articles
The Ultimate Men's Wetsuit Buyer's Guide
Boardshorts vs Swim Trunks: Which Is Right for You
How To Choose Surf Accessories