Men's Guide to Surfing Swimwear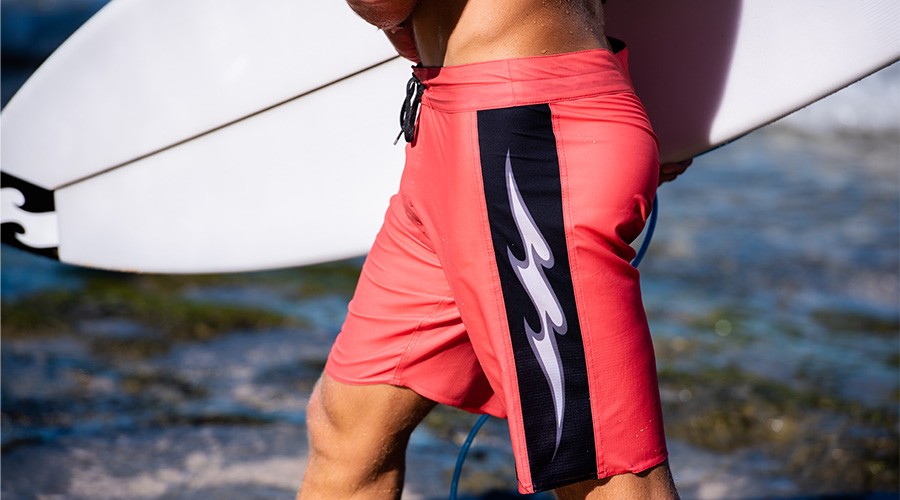 How To Choose a Surfing Swimsuit for Men
Surfing is a demanding watersport requiring a swimsuit built with specific performance features. From the abrasive, unforgiving surface of the surfboard deck to the unpredictability and force of a breaking wave to the dreaded "wipeout," it's important to choose a swimsuit that helps mitigate any of the potential challenges one might encounter during a warmwater surf session. In general, there are three questions you should ask before choosing the best surfing swimsuit for you:
What conditions will I be surfing in?
How long do I plan to stay in the water?
Will I be hanging out on the beach after I surf?
These will help you determine where to start when looking for your next swimsuit.
Swimsuits by Activity Type
Based on the information above, warmwater surfing swimsuit options can be narrowed down to three different categories:
Small Conditions/Beach Hangs
If you're planning on spending a day at the beach and jumping out for a session or three in fun, playful (read: small) surf, you have many options for your surfing swimsuit. This is the time when style and loose, casual comfort can take priority over swimsuits built for pure surfing performance. You're going to want a swimsuit that's just as comfortable on the beach as it is on a board, so consider a comfortable, fixed-waist boardshort, an elastic-waist boardshort or even a hybrid walkshort as your best options.
High-Performance Conditions
If you're choosing a swimsuit specifically for surfing, you're going to want to narrow the field to more "tech-specific" shorts. These are primarily the fixed-waist boardshort category, with a streamlined fit, engineered performance fabrics and features designed to minimize any friction you might encounter during your surf.
Multi-Hour Sessions
Finally, if you're planning on surfing for extended hours (two hours plus per day), you may want to consider additional options to help protect from chafing and extended exposure to the sun. These options might include a wetsuit jacket along with your fixed-waist boardshort, a rash guard or additional warmwater wetsuit options (like a spring suit or short john), eliminating the need for a swimsuit altogether.
Different Types of Surfing Swimwear for Men
Neoprene Shorts and Undershorts
Neoprene shorts are a functional, though less common option for high-performance surfing conditions. More popular in the "athletic-inspired" eras of the '80s and '90s, neoprene shorts are for those surfers who place a premium on performance over style. Key features include:
Many neoprene shorts and undershorts include polyester/nylon "stretch panels"
Cinch tie at front of waist
Outseam length 17" or less
Additional Considerations When Choosing Surf Swimwear
Length And Fit
Boardshorts are designed for minimal drag, giving them a more streamlined, snug-but-not-tight fit. Length-wise, the averages fluctuate with trend cycles, but the median over the past 30 years is an 18.5-inch outseam.
Rash Protection
While technical boardshorts feature performance fabric designed to minimize chafing, there are times when extended hours in the water or on the beach result in an uncomfortable leg/inner thigh rash. When you plan on putting overtime in the water, a base layer, compression garment (polyester/nylon form-fitting short) will help prevent this from happening.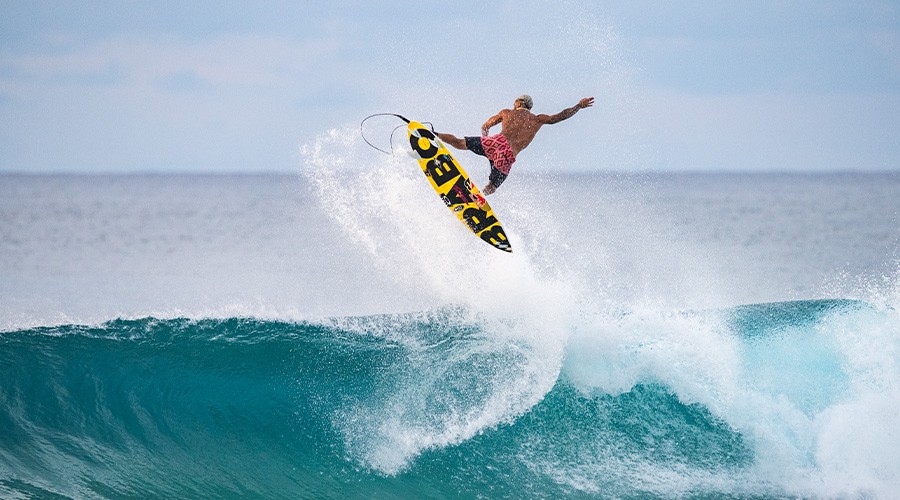 Inner Lining or No?
Any swimsuit with a mesh or built-in inner lining is most likely not ideal for surfing. These inner linings tend to fill with water and "balloon" when submerged, making for a surfing experience that can be a real drag.
Style
As much as surfers want a boardshort that allows them to perform at their best, style matters. A lot. So keep that in mind when choosing your next boardshort. And with unlimited options in the marketplace, there's undoubtedly a style that is meant for you.
Start off your search for the best swimsuit through which type of surfing you'll be doing and choose which features would suit you best to get you geared up for your next warmwater surf session.
Related Articles