THE ULTIMATE HOUSE PLANT GUIDE BY OUR ART DIRECTOR KATIE MARKUS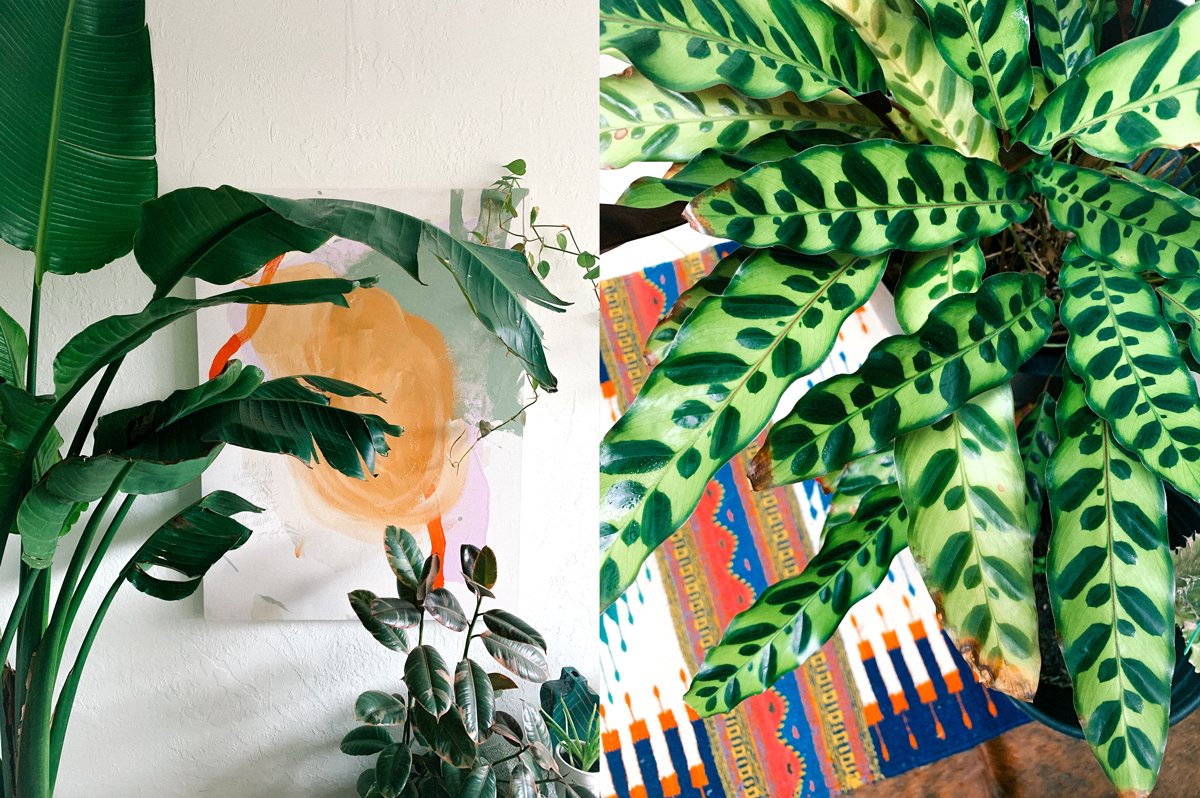 We've been looking for some major décor inspiration and asked our Billabong Women's Art Director and all-around plant lady, Katie Markus, for all the tips and tricks to adding some jungle vibes to our living space. She takes us on a tour through her carefully crafted home filled with a plethora of foliage and gives us the scoop on taking care of house plants (for all of us that haven't been blessed with a green thumb).
What started your love for plants?
To be honest, I've loved plants, flowers & all the things that grow for as long as I can remember. The first place I moved into on my own, I planted flowers the first night. Some I even still have!
I didn't truly get started on indoor plants until about 8 years ago. It took baby steps for a lot of years (and learning you can't force tropical plants into dark spaces no matter how much you love them!).
How many plants do you have in your home? And is it hard to take care of all of them?
How many plants… my first thought is not enough! My goal is to make it as jungle like as possible, but still manageable since I travel a lot. I have 29 indoor plants & currently my office plants are vacationing here – with those the count is 38. I get a lot of enjoyment out of plants so I enjoy taking care of them. Most of mine are on similar water schedules luckily. Because I travel, I don't get plants that require watering more than once a week. It takes about 30 min to water all of them. In the spring and summer, I try to do a fertilizer that I pour in while I water.
Favorite local spots for plant hauls?
My favorite place is The Original Los Angeles Flower Mart in DTLA. Yes, they have rows & rows of cut stems but they have a great selection of indoor plants at great prices! The Plant Depot in San Juan Capistrano is a long time favorite. I actually find a lot of plants, especially cacti on facebook marketplace. I've gotten tons of clippings from people for free. If I don't have a lot of time to spare, yet want something a bit unique, I go to Armstrong. They're a bit pricier but if you practice self- control it's totally worth it!
Pots are also part of the aesthetic but they can be so pricey! Any tips?
I had a lot of resistance to pots for a lot of years because they are so expensive but it really makes all the difference in the final look. I also get a lot of my pots at the flower market or Long Beach Flea Market for really reasonable prices. The BEST place for buying pottery, is a day trip to Tecate just across the border in Baja. Once I bought 7 large pots for $40!
Is there anywhere you go to look for inspiration when purchasing plants? Books? Etc….
To start, I usually have a place in my house in mind. What helps me stay focused is basing my purchase on the size of the space, the light & shape, or location to other plants. Sometimes, I'll buy a plant and say, "I'll figure it out when I get home!", because it's too gorgeous to pass up.
One of my favorite inspiration go-to's is Hilton Carter (@hiltoncarter). His book Wild At Home is amazing, stunning and very informative! (He's also a fiddle leaf whisperer.) @jamiesjungle has an insane collection of plants & I also love @Stephwilsonspace.
What's next on your list / what plant do you want but don't have yet?
I'm DYING for an Elephant Ear. They have one that's a gorgeous black purple color, called a black magic. That's first on my list. Then I want an upright & variegated one, like you'll see in most tropical destinations. The black magic & variegated types are hard to find & a bit pricey, so I'm being patient.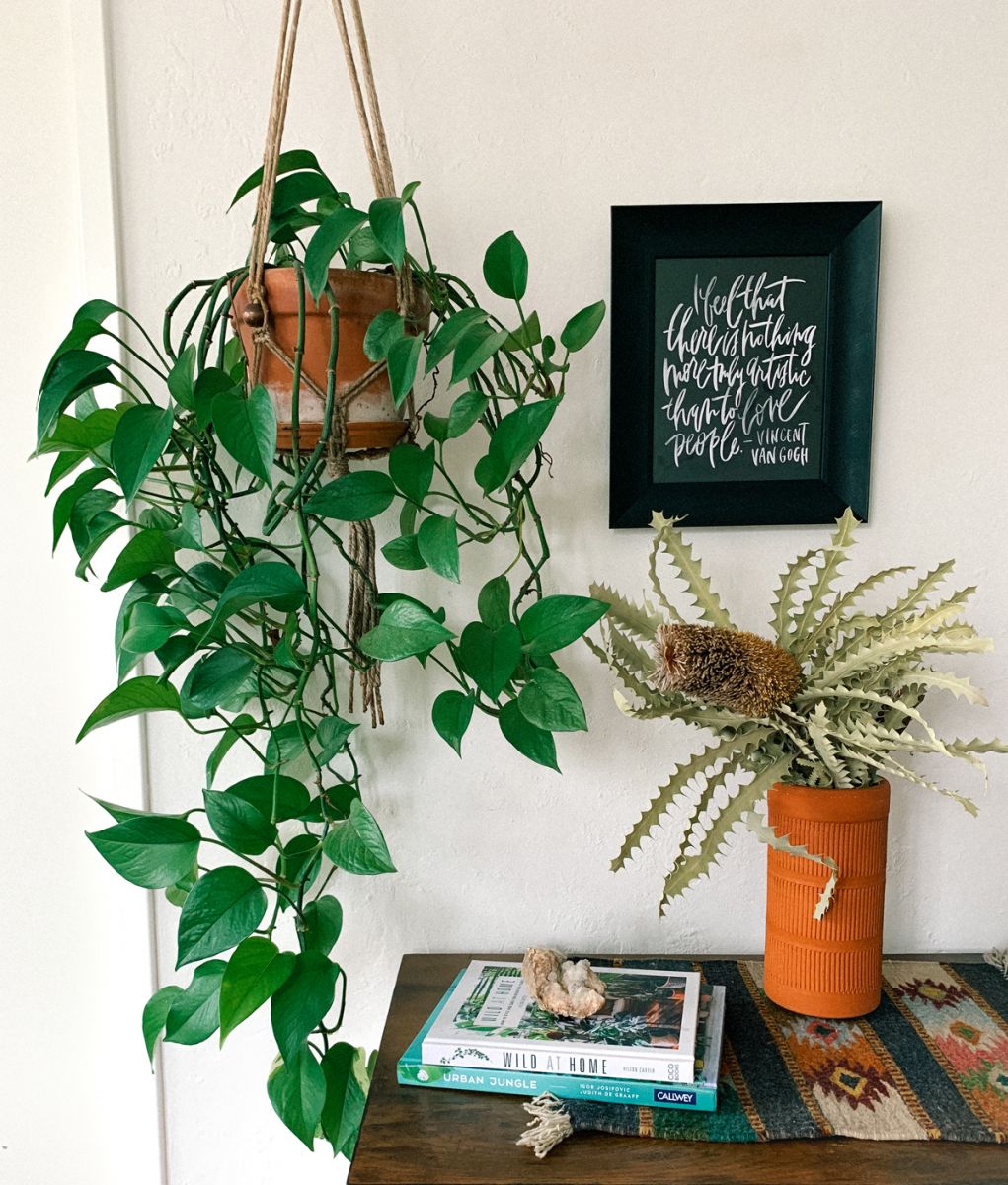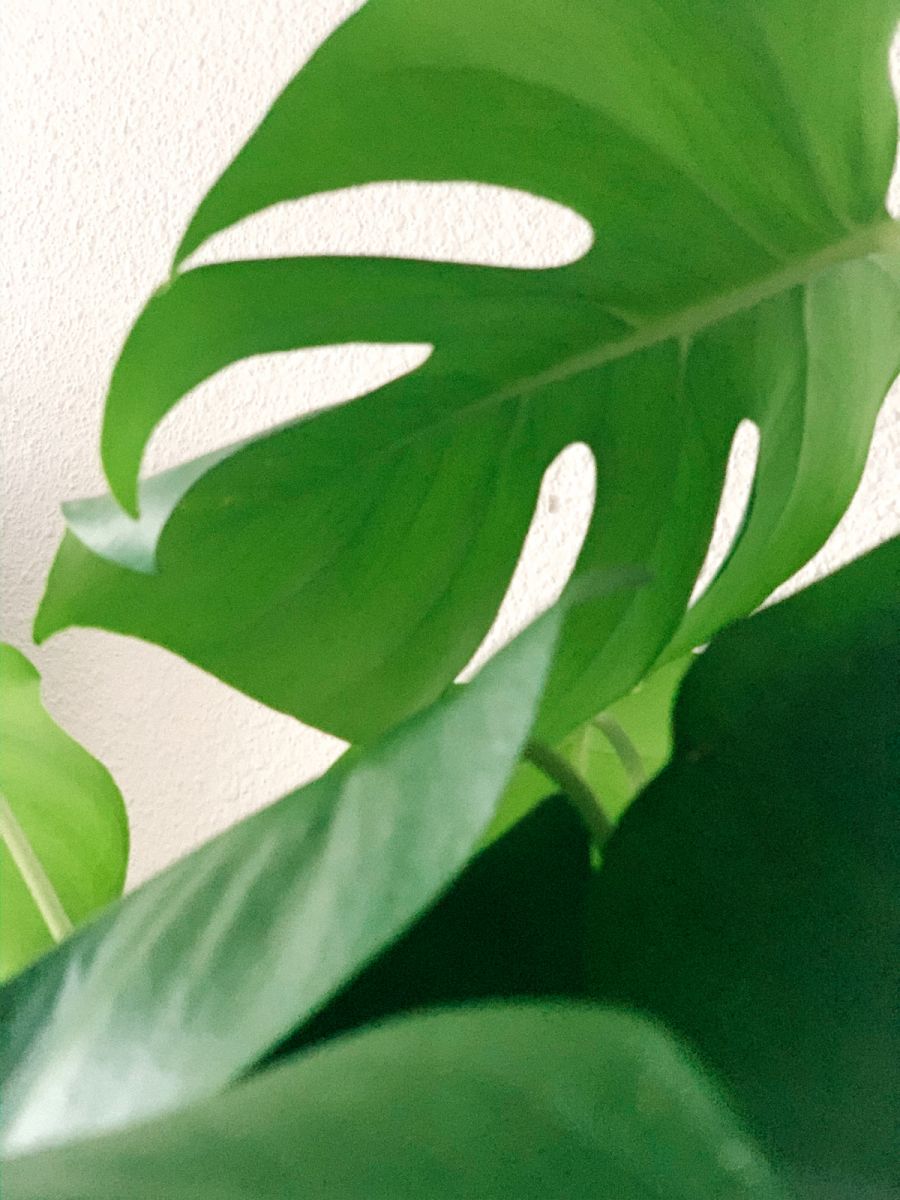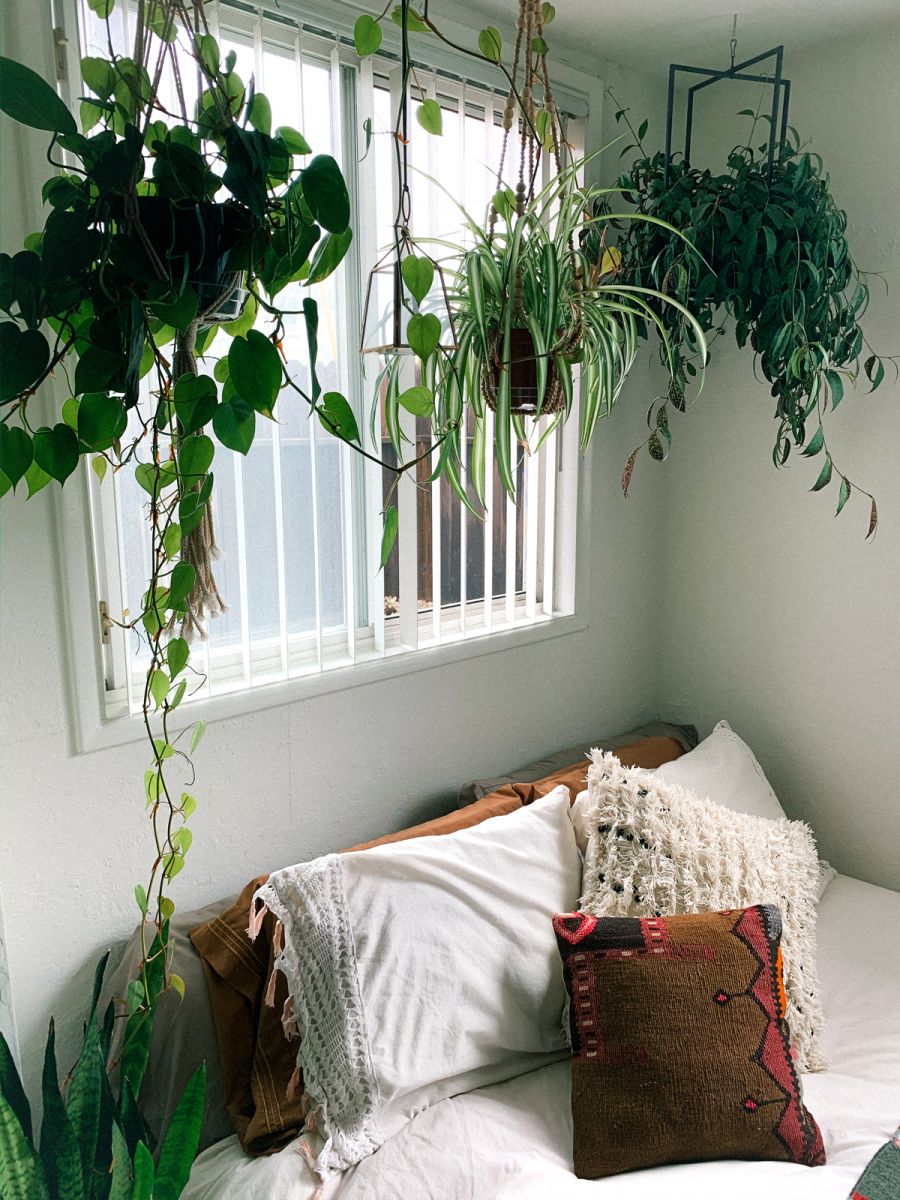 How to Care / Plant Tips
Lighting is everything! No matter how much you love a plant, if it doesn't get the light it needs, it won't survive (I learned this the hard way). Do a bit of homework, talk to the people at the shops, ask questions & have fun!
Good plants for beginners?
If you're starting out, Pothos or Philedendron are very easy to care for and can live in medium to bright indirect light conditions. A Monstera is easy to care for similar to the Pothos but the more light it gets the more it's leaves will split. Snake plants are great too because they can basically live in the dark and require little care.
All time favorite plant you'd recommend?
Fiddle leafs! They are relatively easy to care for ,but the biggest tip I can give here, is once you have a space for it in bright indirect light, don't move it! They don't like to be disturbed & if you have to, just wash it's leaves.
Any last tips?
Last simple tip: Don't over water. Poke your finger in the soil, if its dry – water. If not, let it be for a few more days and check back.