How To Choose a Surf Rash Guard for Women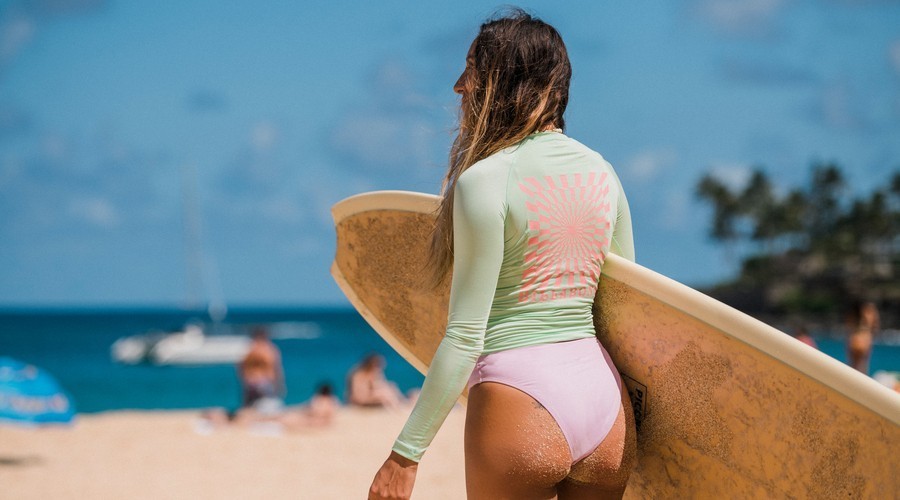 "What is a rash guard?" Rashguards are thin, technical shirts designed for use in the water and on the beach. Rashguards also help keep you warm from a light windchill, but we definitely recommend a neoprene jacket or wetsuit if it's colder than that. Their main purpose is to offer sun protection and, as the name suggests, prevent your body from rashing while you're out in the water.
Women's rashguards come in a variety of different fits, features, and styles. In this helpful guide, we'll outline all the important details to help you choose the rashguard that's right for you.
Rash Guard Fits
"How tight should a rash guard be?" Generally speaking, there are two different rashguard fits: tight-fit and loose-fit. If you're gearing up for an action-packed day of surfing, swimming, or paddle boarding, we recommend a tight-fitting rashguard because it will move with your body like a second skin. A snug-fit rashguard will also create less resistance so you can cut through the water like a pro.
Alternatively, if you're looking for extra sun protection during a chill beach day or out on the boat, then a looser surfing rashguard is going to be the best choice. The loose fit will be more comfortable and you'll still get all the UV-blocking advantages.
Depending on what you plan on doing, the fit of your rashguard can offer different benefits but ultimately, it comes down to personal preference.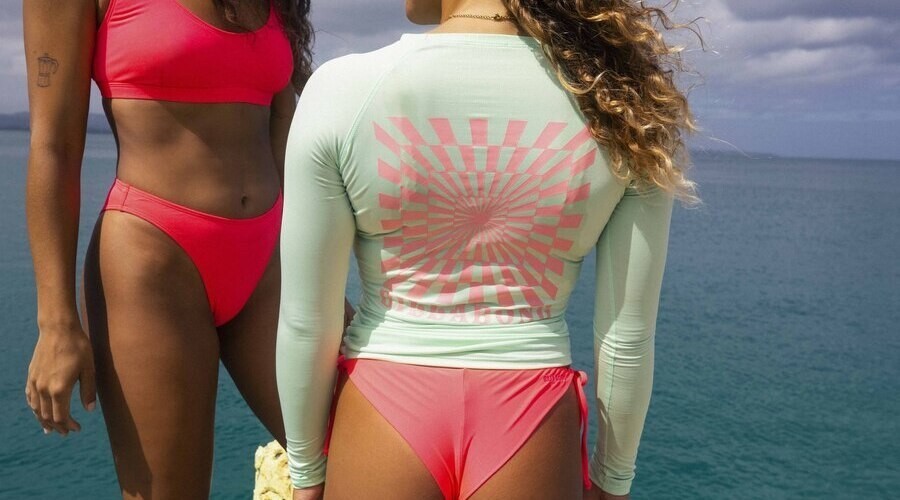 Qualities to Look For
Material
Most rashguards are made of spandex, nylon, or polyester – bonus points if they're made from eco-conscious materials. Recycled stretch polyester is not only lightweight, quick-drying and breathable, but good for the ocean too! Depending on its intended purpose, like high-performance surfing for example, rashguards may feature additional comfort, stronger UV protection, or quick-dry technology.
UPF Rating
Protecting your skin from the sun is another main reason why rashguards are popular. If your goal is protection from sun up to sun down, look for rashguards with a UPF of 50 or above.
Chlorine-Resistance
In addition to sun protection, rashguards can also be chlorine-resistant, which is great for people who plan on spending time in the pool. Chlorine-resistance makes it so that your rashguard keeps its color, maintains its shape and stretch, and prevents chemical odors.
Stitching
Pay close attention to not only what your surfing rashguard is made of, but also how it is made. For the best in strength and comfort, we recommend women's rashguards made with flat-lock stitching. The flat-lock stitch is one where the seams are butted up against each other instead of overlapping or pointing inwards. This type of stitch is the most durable and lays flat against the skin to avoid chafing.
Different Types of Women's Rash Guard Tops
Short Sleeve Rash Guards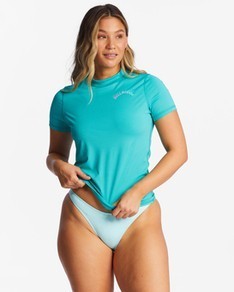 Think of it like a surfable t-shirt. Short-sleeve rash guards focus their sun protection on the chest, shoulders, and back. These styles are most common in warmer climates because they tend to keep you cooler on hotter days. From surfing to swimming to beach volleyball, the short-sleeve women's rashguard is a universal favorite.
Long Sleeve Rash Guards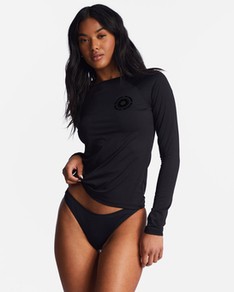 Long-sleeve women's rashguards offer full arm and core coverage for strong sun, like surfing in Hawaii and Indonesia or peak summer in the Northern Hemisphere. Bear in mind that long sleeve rash guards are warmer but expose less skin to UV rays.
Hooded Rash Guards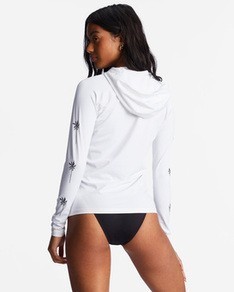 Sunburn doesn't stand a chance with a hooded rashguard. Not only do these styles offer full coverage on the core and arms, but they also protect the back of the neck, the ears, and head. Consider trying them if you'll be doing an activity where strong sun will be hitting you from multiple angles.
Zip Up Rash Guards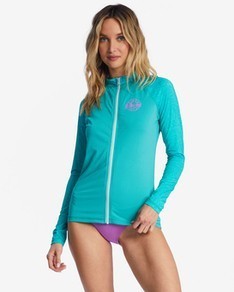 The main bonus to zip-up surfing rashguards is ease. It's not always glamorous to wriggle in and out of a pullover rashguard, so if you want to keep things effortless, the women's zip-front rashguard is a solid pick.
One Piece Rash Guards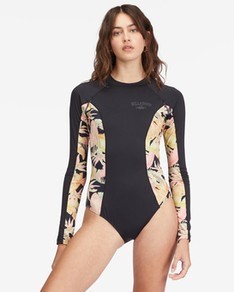 "What to wear under rash guard?" No matter what kind of women's rash guard bathing suit top you choose, you will be layering it over your swimsuit or bikini, and even pairing it with some boardshorts or surf leggings.
If you want to have a single piece that covers all the bases, we love a one-piece women's rashguard bathing suit. Usually long-sleeved, these swimsuits are made of the same technical swim fabric with enhanced durability and sun protection. They also come in a range of cheeky bum cuts depending on preference.
Cropped Rash Guards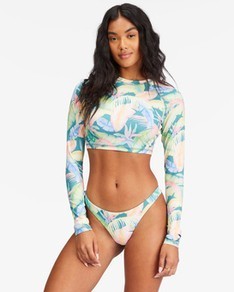 Love a cropped top? Us too. You can get the protection you need, without sacrificing style. Women's cropped top rashguards, either short or long-sleeved, are a cute and convenient way to get the necessary coverage on your upper body while still showing off your shape.
Surf Leggings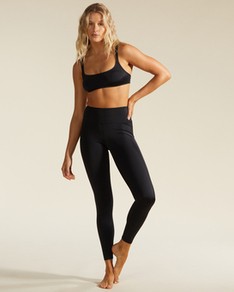 Sun and rash protection doesn't stop with the upper body. Keep your legs protected and comfy with a pair of soft and stretchy surf leggings. Made of technical rashguard fabric, women's surf leggings are lightweight and quick-drying, plus you can move with confidence knowing you've got full bottom coverage. Pop-up tested, wipe-out approved.
No matter how you plan to spend your day in the sun, these pieces will maximize your outdoor fun. Now grab the one that calls to you, get out there, and get after it.
Related Guides
The Ultimate Women's Wetsuit Buyer's Guide
How To Pick the Perfect Bikini for Surfing
How To Choose a Bikini for an Apple Body Shape
How To Choose a Bikini for a Pear Body Shape
How To Choose a Bikini for a Rectangle Body Shape
How To Choose a Bikini for an Hourglass Body Shape
How To Choose a Bikini for an Athletic Body Shape