How To Choose a Bikini for an Apple Body Shape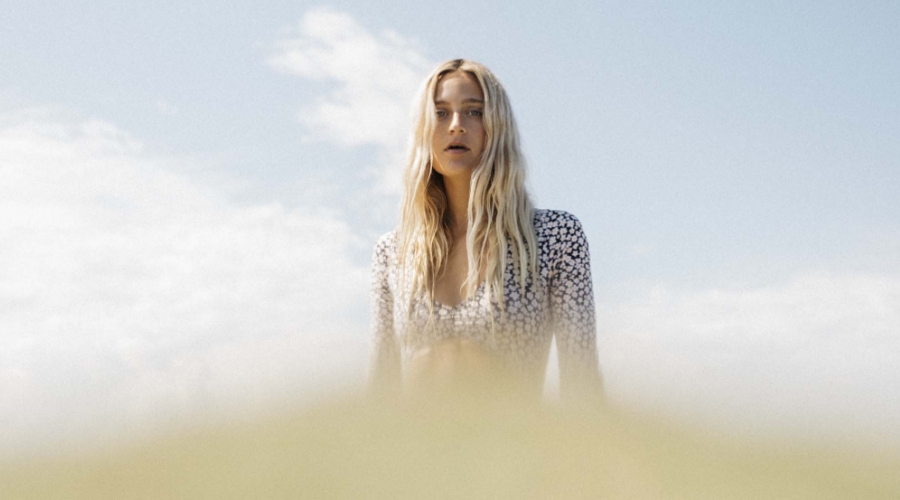 We don't love labeling our bodies, but we get this question all the time: "What is the best bikini for an apple body shape?"
While outdated, the "apple" shaped body, traditionally also known as the "round" body shape, is generally characterized by women who have a full chest and midsection, an undefined waist, and slim legs. If this sounds relatable to you, then here are our recommendations (even though ultimately we know you'll look beautiful no matter what you wear).
Q. "What Is an Apple Body Shape?" - Sailor
An "apple-shaped" body typically has the following characteristics:
Broader shoulders
Larger bust
Less defined waist
Narrower hips
Slender legs
Q. "What's the Best Swimsuit for Apple Shaped Bodies?" - Erin
The trick to finding a flattering swimsuit for you is to highlight what makes you feel most confident. We recommend creating the illusion of a waist by drawing attention to the upper and lower body. We love swimsuits with deep necklines and bottoms with either eye-catching details or a high leg rise.
Q. "How Do I Choose a Bikini for an Apple-Shaped Body?" - Kayla
You can utilize swimwear shape and color to accentuate your favorite features. Pairing a solid bottom with a bold top will emphasize the bust and shoulders. Vice versa, combining a textured or ruffled bottom with a neutral top will bring the focus to the hips and legs.
Q. "What Are the Best Swimsuit Types When You Have an Apple Body Shape?" - Kylie
Women's One-Piece Swim
One of our favorite go-tos is a plunging V-neck. This style accentuates the bust and creates a flattering silhouette. We also love styles with side details like ruching or paneling. These details lengthen the legs and accentuate the waist.
Pro Tip: Bathing suits with vertical stripes will elongate the figure, while styles with wrap or shirring details define the waist.
SHOP ONE PIECE SWIM
Women's Bikini Tops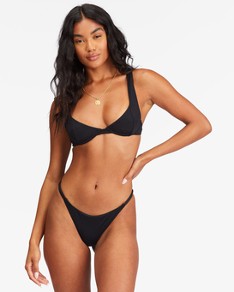 Skimpy coverage: Supportive bikini tops with underwire give a beautiful shape to those with a large chest or big bust. Our faves are the classic triangle top or a sweetheart cut.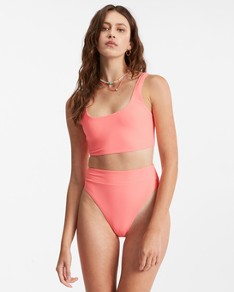 Medium-to-full coverage: A long-line tank bikini top is a great choice for more active beach days. Designed for optimal comfort and support, this style accentuates the bust while simultaneously cinching the waist.
Pro Tip: Consider tops with bold prints, large ruffles, or textured fabric. These design elements will draw attention to the upper body.
SHOP BIKINI TOPS
Women's Bikini Bottoms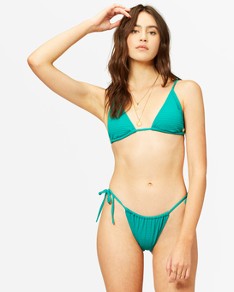 Skimpy coverage: We love styles that add volume to the lower body with eye-catching details. Women's bikini bottoms with side-ties or ruffles will add a playful element to your look.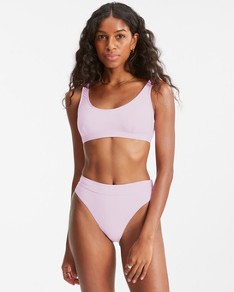 Medium-to-full coverage: Bottoms with a high waist and high leg rise are a great way to elongate the legs.
Pro Tip: High-rise bottoms that meet the smallest part of your waistline create a dreamy hourglass figure.
SHOP BIKINI BOTTOMS
Q. "Any Dos and Don'ts When Choosing a Bikini for an Apple Body Type?" - Madison
DO: Add an effect. Details like ruffles, ruching, and wrapping are not only fun and flirty, but they're also our favorite way to create a more curvaceous silhouette.
DO: Explore lots of fits and fabrics. Swimwear ranges from super-stretch to crochet — and then some. Test them all out to see how different materials fit your body.
DO: Get colorful. Both in bikinis and one-piece swimwear, color-blocking is a great way to draw attention to your favorite features. Have fun with mixing & matching!
DON'T: Shy away from showing a little skin. More fabric is not always more flattering. Instead, celebrate your shape with swimwear that accentuates your assets.
DON'T: Let yourself believe you can't look good in a bikini. If you're not liking the way you look, try a bikini style that you haven't tried before! You may discover something that you love.
No matter what shape you are, the perfect swimsuit is the one that makes you feel confident. Play around with shapes and explore lots of styles. Find the one that's right for you, and go have some fun in the sun!
SHOP ALL WOMEN'S SWIM