How To Choose a Bikini for a Rectangle Body Shape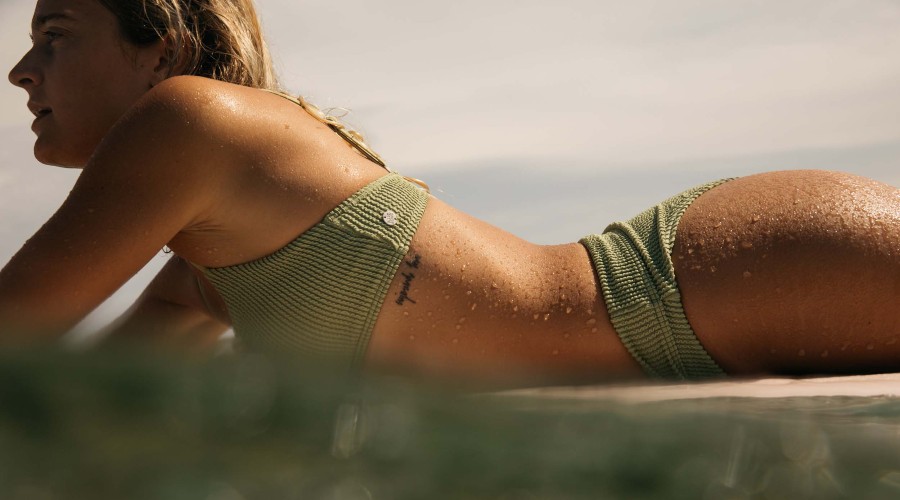 A good swimsuit should make you feel confident inside and out. But how do you sort through the sea of women's bikinis to find one that works for you? Our bikini experts gathered together to help answer some of your most asked questions, because we believe every body is a bikini body! Here are our faves to help you feel beautiful just as you are on and off the beach.
Here we'll answer your questions on the "rectangle-shaped" body and give you the tools to find a swimsuit that makes you look and feel your very best.
Q. "How Do I Choose the Best Swimsuit for a Rectangle-Shape Body?" - Lisa
While we don't normally like to label our bodies, we get that everybody is different and shopping for a bikini can be, well... daunting! Women who identify with a "rectangle" body shape are relatively balanced in proportion with less definition between the hips and waistline. You might have heard the terms "straight-body", "h-shaped", "banana-shaped" or even "ruler-shaped" when referring to this kind of body shape.
Q. "What is a Rectangle Body Shape?" - Aneesa
A "rectangle-shaped" body type has the following features:
An overall straight silhouette
Fairly uniform shoulders, waist and hips
Little waist definition
Smaller-to-average bust and bum
Fits the same size top and bottoms
Q. "Any Tips on How To Choose a Bikini for a Rectangle-Shaped Body?" - Lauren
The trick to finding a flattering women's swimsuit for a "rectangle" body is to draw attention to the upper and lower parts of your body to highlight those gorgeous curves. You can also utilize swimwear shapes and styles that add volume, definition and eye-catching details to your bust and hip area.
One-Piece Swimsuits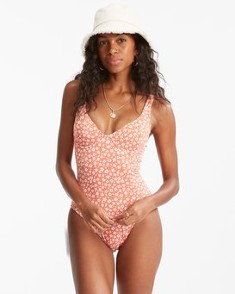 A really nice option for a one-piece swimsuit for rectangle bodies is the plunging V-neck. This style cinches the waist and shows off shoulders to create a flattering silhouette.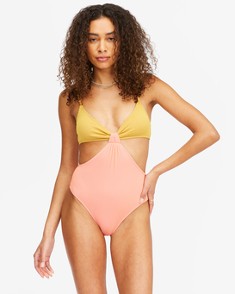 We also love the monokini, or a swimsuit with side cut-outs. This style is super trendy right now and instantly creates an hourglass shape by balancing shoulders and hips and visually bringing in the waist.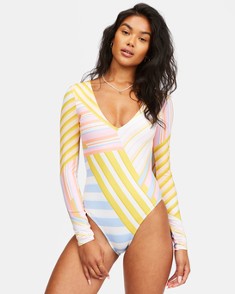 Plus, when it comes to women's one-piece swimwear, never underestimate the power of lines, color, and texture. Find a suit with ruching on the sides or one that uses diagonal lines to accentuate a waistline. Color-blocked swimwear can flatter a silhouette by adding definition to the upper and lower body.
SHOP ONE PIECE SWIM
Bikini Tops
If your goal is to enhance your bust and create an hourglass silhouette, choose a bikini top that shows off your shoulders and neckline while accentuating your curves. We recommend looking for a top with padding or lift for an easy way to enhance your natural shape.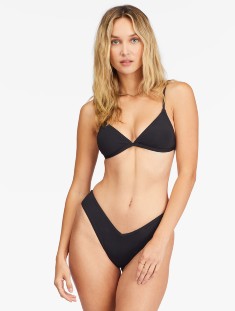 Skimpy coverage: A triangle top and sweetheart bandeau are two great choices. These styles have a classic fit that's never going out of style and sure to compliment your figure.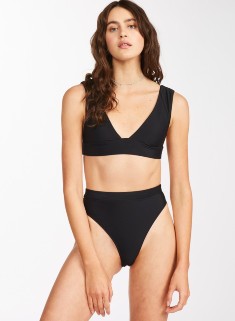 Medium-to-full coverage: If you're looking for something with a little more support, a halter neck top or tops with internal underwire or thicker chest bands are good options. Halter neck tops break up the "rectangle" shape by making your shoulders appear more narrow and accentuating your bust.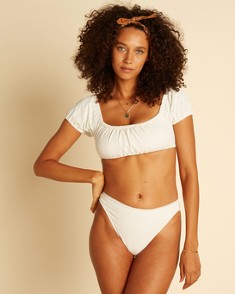 Statement Tops: An off-the-shoulder top with puff sleeves or a large ruffle adds volume to your top half while simultaneously slimming your waist in the process. Sign us up!
SHOP BIKINI TOPS
Bikini Bottoms
Because those of us with "rectangle" body shapes typically have straighter hips, we recommend picking a bikini bottom that shows off your legs and accentuates your lower half.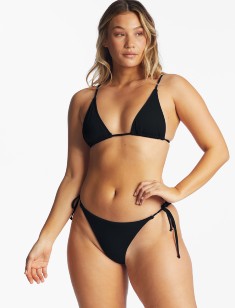 Skimpy coverage: If your goal is maximum sun on the bum, choose a skimpy cut with side embellishments like ruffles or ties. These extra details add volume to your hips and create a curvier look.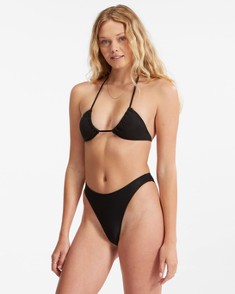 Medium-to-full coverage: If your beach day is action-packed, you're going to want a bottom that offers coverage you can count on while complimenting your shape. Anything mid-to-high waist with a high leg cut will accentuate your waist and add flattering width to your hips, so try a high-rise or a V-shape bottom.
SHOP BIKINI BOTTOMS
Gearing up for a day in the waves? Look for a bikini that's built to perform. If you need some help, check out our guide on "How To Choose a Surf Bikini".
Q. "What are the Dos and Don'ts When Choosing a Bikini for a Rectangle-Shape?" - Erica
DO: Embrace your body shape by accentuating your assets and learning what styles make you look and feel your best. Try as many different fits as possible.
DO: Explore different fabrics. Bikinis can be stretchy and soft, ribbed, crinkled, ruched, sequined, and more. Every fabric has its own set of properties that will affect how it fits your body, so test them all out!
DON'T: Shy away from bold color and print. These design elements are great tools to draw the eye wherever you want it to go.
DON'T: Let yourself believe that you can't look good in a bikini. If things aren't looking like you want them to, it's probably because you haven't found your perfect suit yet. Time to try something new.
With your rectangle body shape, most swimwear styles for women will suit you. But if you follow these style tips, you can find a swimsuit that makes you look and feel your best.
SHOP WOMEN'S SWIMWEAR