How To Choose the Perfect Sport Swimwear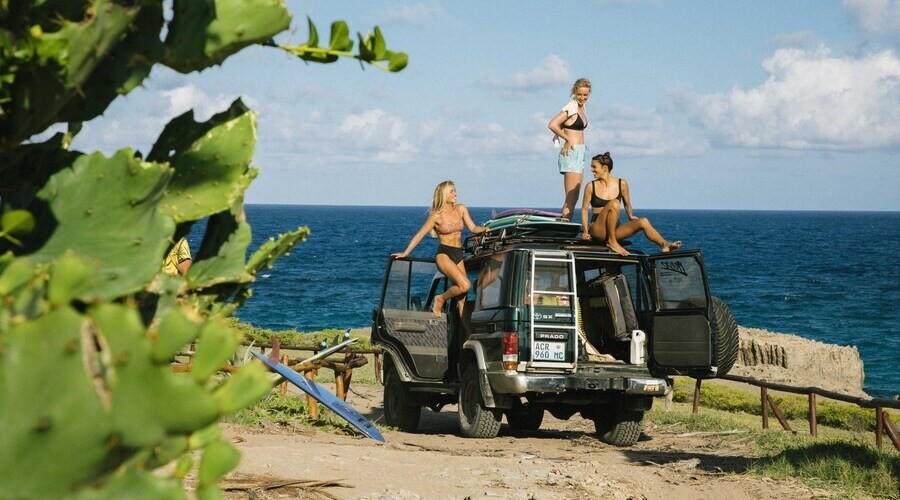 Whether you're surfing, swimming or SUPing, a good sports swimsuit should make you feel comfortable – less time adjusting your bathing suit and more time focused on your activity. To find women's sports swimwear that meets your athletic needs, consider four key elements: support, comfort, durability, and style.
What Is a Sport Bathing Suit?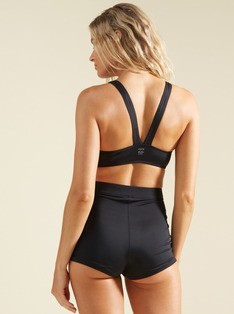 A sport swimsuit is made of technical fabric engineered to dry fast, resist damage, and help you move through the water like a pro. Designed with performance in mind, these suits are sure to stay put, keep you supported and are ultra comfortable in and out of the water. Wherever your next adventure takes you, we guarantee your swim can get you there.
Support
Swimsuits typically offer low, medium, or high support. The higher the support, the more security and structure you will get from your bathing suit. While ladies with larger busts will benefit from high-support swimsuits, support does not relate directly to cup size. Your choice should depend on activity level and personal preference.
Swimming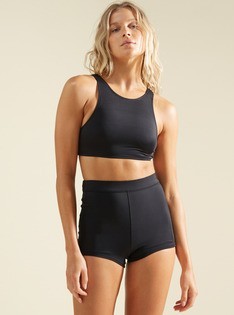 Whether you prefer swimming laps or training in the ocean, medium-support swimsuits will offer plenty of comfort for swimmers. Swimming is an excellent form of cardio fitness that builds endurance and muscle strength, so swimwear for athletes should act as a second skin. Look for sleek styles and aerodynamic cuts, such as high neck bikini tops, that will offer a secure fit and reduce drag in the water.
Surfing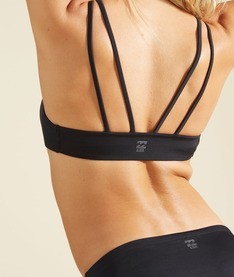 From pop-ups to duck dives and the occasional wipeout, surfing requires athletic swimwear with high support to keep everything in place. We love swimsuits with thicker shoulder straps for more bust support, or strappy bralettes with skimpy pant bikini bottoms for max comfort in the lineup.
If you prefer less sun exposure, a tight-fitting rashguard is a great choice. When worn over your swimsuit, these surf tops offer additional support and enhanced UV protection. We love long sleeve rash guards, but if you still don't know where to start, our helpful guide on "How To Choose A Rashguard" outlines everything you need to know.
Other Water Activities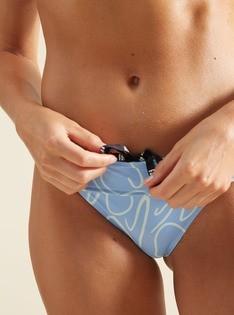 As a general rule, your swimsuit support should match the level of intensity of your water activity. If you practice medium-to-low impact activities like stand-up paddling or snorkeling, choose a medium-support suit that will keep you comfortable while you explore. If high-intensity water sports like bodysurfing or beach fitness are more your thing, a high-support swimsuit will offer more security and confidence.
Comfort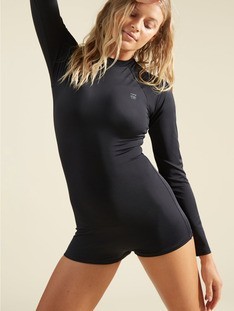 Athletic swim is typically hardware free for maximum comfort. It's compressive, smoothing and has removable cups so you can tailor the fit to your preference. We recommend your swim fit like a glove, offering slight compression with no wrinkles or loose fabric. Extra space in the suit means it's too big, and any pinching means it's too small. For an easy size test, you should only be able to fit two fingers (one on top of the other) snuggly under the shoulder strap.
When weighing the benefits of a sports bikini versus a one-piece, the choice ultimately comes down to personal preference. One-piece sport swimsuits offer fuller coverage, but bikinis are a more comfortable choice for women who tend to wear different size tops and bottoms. You can't go wrong with either, but if you're looking for a little more coverage and sun protection, we recommend a long sleeve swimsuit.
Can You Swim in a Sports Bra?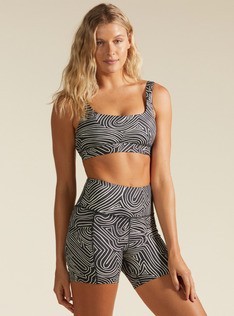 Of course you can! However, it's important to pay attention to the fabric. Natural-fiber fabrics like cotton sports bras will get heavy in the water and quickly lose shape. They will also take a lot longer to dry out afterward. Bra tank swim tops are a great alternative because they offer similar comfort and coverage, but are specifically designed for active beach days, whether you're getting to the surf or getting barreled. Look for premium recycled nylon fabric featuring shape retention technology so you don't have to worry about wearing out the fabric.
Can You Wear a Bra Under a Swimsuit?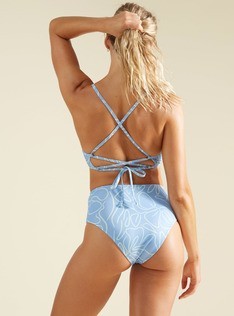 We wouldn't recommend it. Bras aren't the most comfortable option and aren't designed to withstand chlorine, salt water, and sunlight, so it's a quick way to ruin your favorite undergarments. Fortunately, most sports swimsuits are fully lined so you won't need to stress about see-through situations. And if shape is your concern, you can opt for swim tops with built-in bras or removable cups for just that purpose!
Can Running Shorts Be Used for Swimming?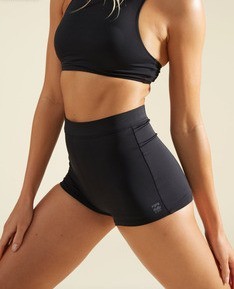 Similar to our advice on sports bras, you can swim in gym shorts. Keep in mind that the type of fabric and thickness will affect the weight and comfort when wet, see the next section for more information. This could weigh you down and impact your performance. If you want short-style coverage, consider women's boardshorts or boyshort bikini bottoms.
SHOP BIKINI TOPS SHOP BIKINI BOTTOMS SHOP ONE PIECES
Fabrics & Durability
Most athletic bathing suits are made of nylon or polyester blends because they are ultra-strong, very soft, and highly stretchy. For high performance with less of an impact, opt for eco-conscious options such as Econyl®, Repreve®, and recycled materials. Some premium fabric options are not only recycled, but recyclable. These technical fabric blends often offer sun protection (we recommend at least UPF 50), as well as chlorine and sun cream resistance. These technical features make all the difference in the lifespan of your athletic swimsuits.
Note: Properly washing and drying your bathing suit will also ensure that your sports swimsuit performs well for years to come. Not sure about best practices? Our helpful "Swimwear Care Guide" is here to answer all your questions.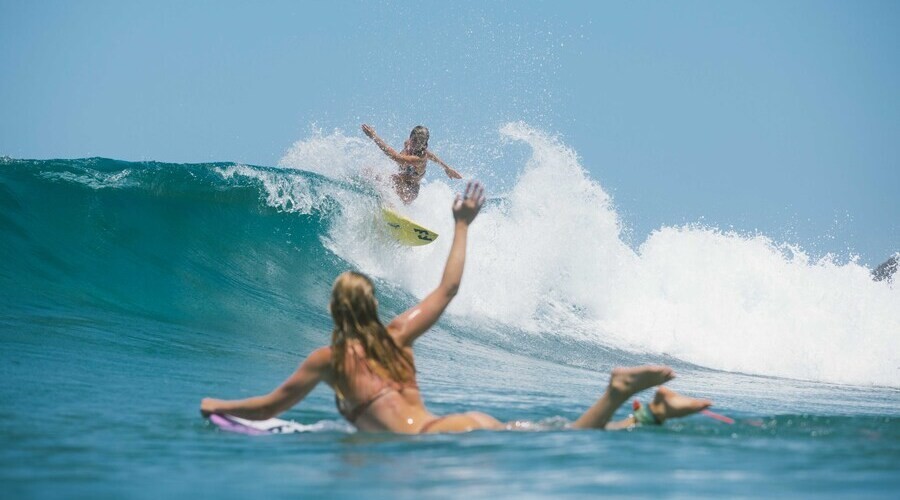 Is Polyester Good for Swimming?
Simply put, yes. Some might even argue that polyester is actually the best swimwear fabric. Polyester is soft, yet very strong, and it's also pill-resistant which is a great choice for surfers who experience a lot of wear and tear while paddling. We also love Carvico Vita Econyl® recycled nylon for its shape retention and UPF 50+ sun protection.
Style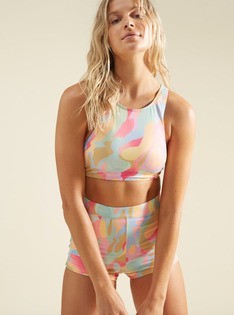 Just because it's functional doesn't mean it can't be cute! Looking for a fun way to emphasize your upper body while prioritizing comfort and support? We love banded triangle tops with a comfort driven pullover design and fun back strap detail. If you're looking for a little extra security, try high neck tops for a fun fashion look out in the water.
Want to cinch the waistline and highlight your curves? We recommend high-waisted or boy short bikini bottoms.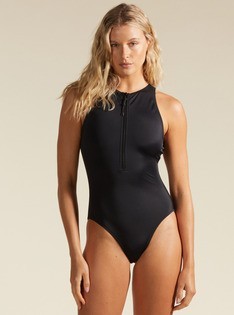 If coverage is your focus, try a zippered one-piece swimsuit. In long sleeve or tank styles, these bathing suits offer excellent sun protection and easily zip on and off, plus they give off major Bond girl vibes in and out of the water. High neck one pieces are an athlete fav.
If you want some help sorting through the sea of options, have a look at our "How To Choose a Bikini for an Athletic Body Shape" guide.
Ultimately, when choosing a sports swimsuit, consider what you plan to do, how you like to move, and what features are most important to you. If you follow these helpful tips, you'll find a bathing suit that will enhance your performance in the water and make your experience more enjoyable. Dive in! Adventure awaits.
SHOP ADVENTURE DIVISION SWIM SHOP ALL WOMEN'S SWIM
Related Guides
The Ultimate Women's Wetsuit Buyer's Guide
How To Pick the Perfect Bikini for Surfing
How To Choose a Bikini for an Apple Body Shape
How To Choose a Bikini for a Pear Body Shape
How To Choose a Bikini for a Rectangle Body Shape
How To Choose a Bikini for an Hourglass Body Shape
How To Choose a Bikini for an Athletic Body Shape