How To Pick the Perfect Bikini for Surfing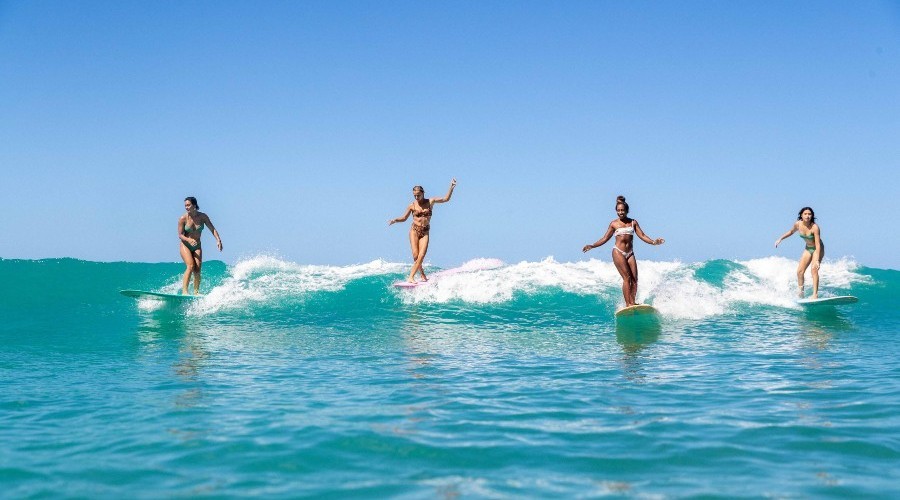 Not all bikinis are made equal. Choosing the right suit depends on where you go and what you do. This guide is intended for our sisters of the surf with tips on choosing the best surf bikini so you can make the most of your ride.
What Is a Surf Bikini?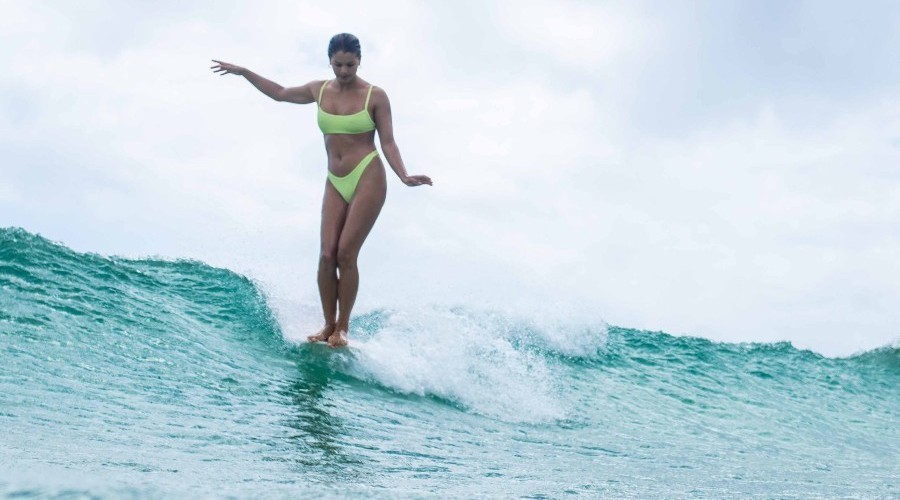 A surf bikini is the perfect bikini for surfing built for athletic performance in the water. Whether you're the authority at your local break or just starting out, the right bikini for surfing will make you feel confident and secure while keeping your style on point. Look for a suit that will stay put so you can focus on the ride. Fabric, comfort, and cut are the key elements to consider.
How To Make Sure Your Bikini Doesn't Come Off While Surfing?
Make sure you don't lose your suit in the surf by paying attention to how it fits your body. It should be snug—so snug you might even consider sizing down. You don't want to cut off circulation, but you do want a secure fit that won't slip. Bottom coverage is a personal choice, whether you go for cheeky or full coverage, high-waist or low-rise, look for stretchy fabrics and avoid tie sides.
Which Bikini Fabrics Are the Best for Comfort and Performance?
It's tempting to live your '70s surfer girl dreams and cut down the line in a crocheted suit, but if you're serious about riding waves, go for soft and stretchy fabrics that will move with you, not against you.
Avoid fabrics that retain water like terry cloth or yarn-based options, and rule out delicate details like ruffles, fringe, and ties as they complicate things in the surf.
What Bikini Top Is Best for Surfing?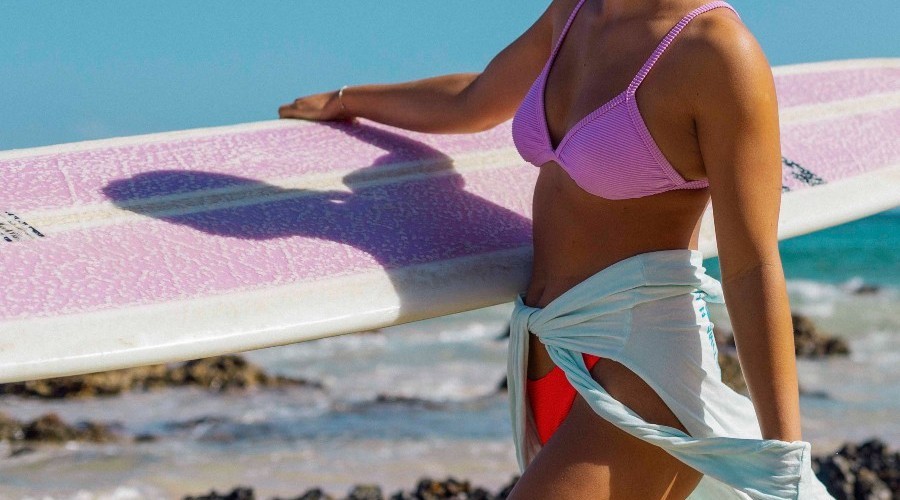 Look for solid support and coverage.
Think wide or fixed straps, or crisscross back styles.
A scoop or square neckline is ideal.
Tank or Fixed Triangle silhouettes are also perfect for surfing.
We're fans of pullover designs or closures that feature secure S-hook clasps.
Bikini Top Types That Are Best To Avoid
Slide Triangle Tops— with ties at the back or neck won't be doing you any favors. These stringy beauties can quickly come undone in the waves.
Bandeaus— are a no-no because they won't stay secure in the surf.
Underwire Tops— are cute but perhaps not the best for surfing, because the internal wires could be uncomfortable when lying on your chest. .
Other Considerations When Choosing a Top
Coverage: You want ample coverage that hugs you like a glove.
Larger Chests: You can opt for a full-coverage top that features over-the-shoulder straps.
Smaller Chests: A fixed triangle top is a safe bet but make sure it's snug-fitting and the closure is secure.
Rashguards: A Surf Bikini Alternative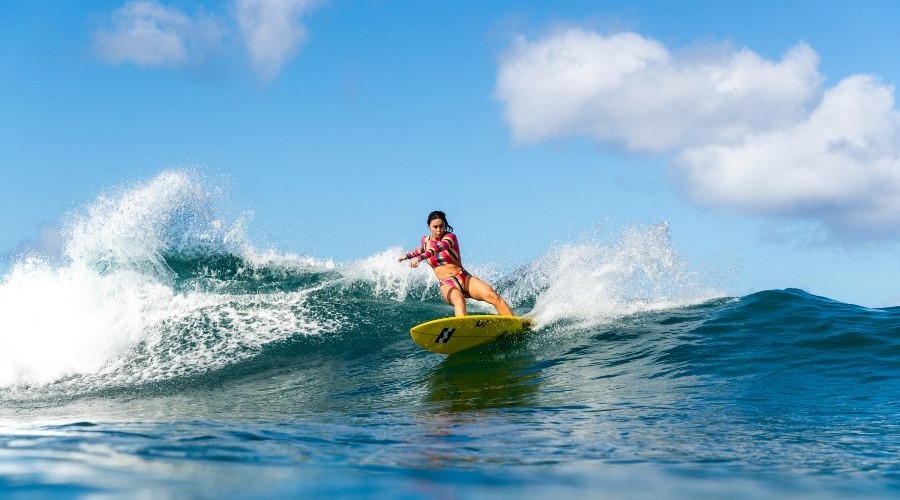 Unlike a wetsuit top — aka a wetsuit jacket— designed to add warmth, rashguards are the go-to for all-day, warm water sessions. Either long or short-sleeved, these lightweight surf shirts are your best friend against nip-slips, sunburns, and rashes caused by rubbing against your board. They should fit snugly with nothing loose or hanging. A surf bikini or a one-piece is usually worn under your rashguard. You can also pair a bikini top and rashguard with surf leggings for a sun-safe and stylish look from head to toe.
Best Bikini Bottom Types for Surfing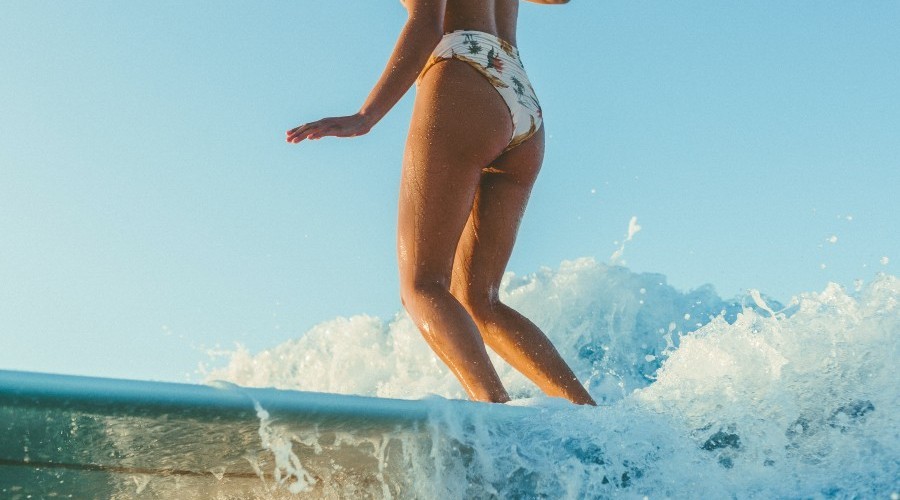 Bottom coverages from skimpy through to fullest bum coverage are all great for surfing.
We recommend anything with a fixed waistband. These styles won't slip in the surf.
If you're a fan of super skimpy and cheeky styles, make sure the fit is snug enough to handle ducking under waves and wipeouts.
Bikini Bottom Types To Avoid
Skimpy options are fine, but side-ties are not. The last thing you want to think about is whether or not your bottoms will be there when you drop in. Leave your side-tie suits on the sand and opt for coverage you can count on.
Alternatives: Board Shorts, Swim Shorts, or Surf Leggings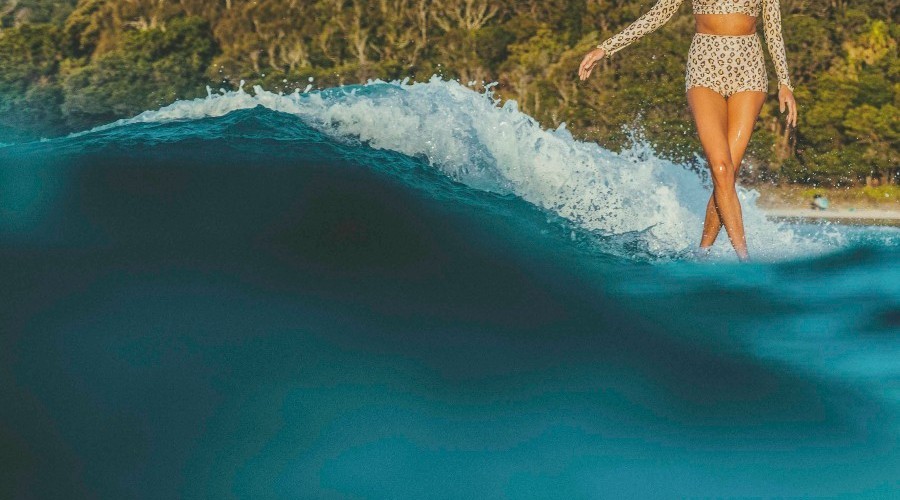 Women's surf apparel is having its heyday. Not satisfied with your options for a surf bikini bottom? Opt for a pair of board shorts or swim shorts. For more coverage on the legs, we love surf leggings. These options are built for comfort and performance, and show off your signature style.
Can I Surf in a One-Piece Swimsuit?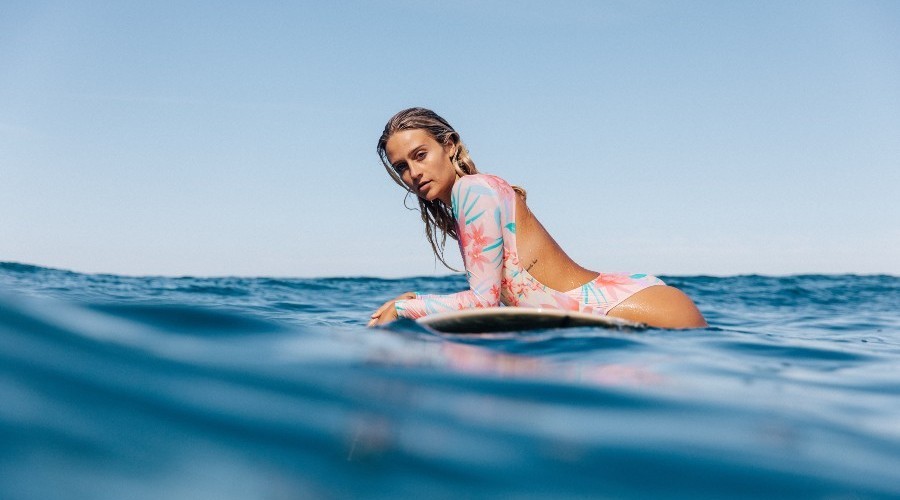 100%. Just make sure your one-piece checks the boxes for fitlike you would for a surf bikini. Look for straps that won't slide off the shoulder and avoid neckties and totally open back styles.
Long-sleeve one-piece swimsuits or bodysuits are also excellent choices for full-day surf sessions. Usually designed with a back or chest zip for easy on and off, long-sleeve one-pieces strike the perfect balance between rashguard-level sun protection and bum-loving bikini bottoms.
The main difference to consider when choosing between a surf bikini and a one-piece is sun protection. More coverage means protection from harmful UV rays and irritation from wax and sand. Other than that it just comes down to personal preference.
Related Articles
How To Choose a Wetsuit for Women