The Ultimate Women's Wetsuit Buyer's Guide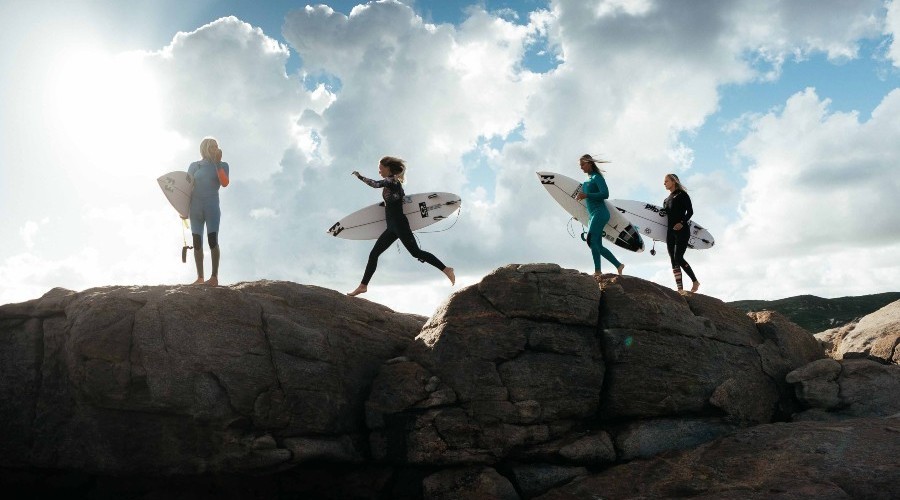 We love wetsuits. With a good wetsuit, we can surf all year long. They keep us happy, warm and focused on the fun. From tropical sessions in Hawaii to frigid Icelandic expeditions, choosing the best wetsuit for your conditions is essential for feeling comfortable and confident while you surf. This guide will help you find your second skin.
What Are the Different Types of Women's Wetsuits?
Always dress for the occasion. Women's wetsuits come in a range of silhouettes and thicknesses depending on water temperature. Thinner, lighter wetsuits are for warmer waters and thicker wetsuits insulate you from the cold.
You could break them down into five main categories:
Full Suit
Hooded Wetsuits
Spring Suit / Shorty
Long Jane & Neoprene Top
Short Jane & Neoprene Top
Shop Wetsuits
How To Get the Perfect Fit for a Women's Wetsuit
It's important to find a wetsuit that feels best on you and your body. The fit should be snug but not so tight as to restrict your range of motion. Wetsuits work by trapping a small layer of water between your skin and the neoprene, so you need a tight fit for the suit to function properly. When you try it on, the suit should contour to your curves. It's ok if it feels a little tight on land, it will become more flexible in the water. The neckline should always be comfortable and never feel suffocating.
Pro Tip: Each brand has unique elements and ranges that will make it feel different even though the sizes may all be the same. Try to test a few different suits before buying to find one that hugs you like a glove.
How Do You Measure for a Women's Wetsuit?
If your wetsuit is too big, too much water will get in and the wetsuit won't be able to do its job. Too small, and you'll lose mobility. Most brands will offer a sizing chart that helps you identify the correct size you need. You'll typically see measurements listed for height and weight. Some brands also list chest, waist and hip measurements.
Find Your Wetsuit
Different Types of Wetsuit Seams
Seams are where the fabric panels of your wetsuit are joined together. These panels are secured with three different kinds of seams: flatlock stitching, glued and blind stitched seams - often referred to as GBS sealed seams, and liquid welded seams with an exterior silicone bond.
This may seem like a small detail, but it can make a big difference. Seam type and positioning are essential for comfort, mobility, durability and warmth.
Flatlock Wetsuit Stitching
Flatlock stitching means overlapping one panel over another and stitching them together through the neoprene. This seam is durable, flexible and strong, but it is also prone to high water penetration, which will lessen the overall warmth of your wetsuit, which is fine for warm-water suits but not great for winter wetsuits.
GBS or Sealed Wetsuit Seams
Sealed wetsuit seams fix the problem of water leakage by using glue to seal the seams prior to stitching. They feel nicer on your skin and the blind stitching technique avoids piercing the inside of the neoprene, keeping it more water-tight than the standard flatlock stitching. Additionally a seam tape is applied internally to increase warmth, comfort, and durability.
Liquid Welded Seams
A sealed seam using the above GBS technique with added liquid silicon and internal taped seam offers the highest level of warmth, comfort and durability. This style has the same construction as a GBS sealed seam, plus the anti-leakage benefits of an extra layer of liquid silicone. This holds the stitch in place and prevents rubbing against your body. It's the best option, and that is reflected in the price tag.
Wetsuit Zip / Entry Systems
When choosing a wetsuit, consider the way you want to get in and out of it. For women's wetsuits, the options include back zip, chest zip, or zip free and the choice is often down to personal preference.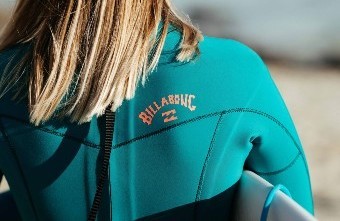 Back Zip
A back zip wetsuit features the most traditional style of entry system. They have a vertical zip on the back of the suit with a long leash on the zipper so you can zip yourself up. If you're looking for ease, a back zip is the best call. The suit opens wide so it is easy to get on and off, and gives you more space in the shoulders. The neck is also adjustable. However, this style is prone to water flushing so don't be surprised if you feel cold water on your back when you first jump in. They can also reduce a suit's flexibility, as the zipper doesn't stretch the way a neoprene panel does.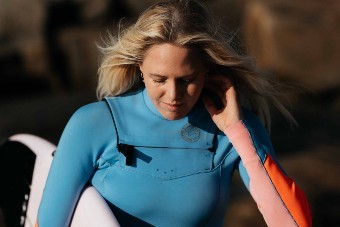 Chest Zip
A chest zip entry system is more performance-driven. Thanks to a small zipper and optimized seal design, they eliminate the water leaks and rigidness, giving you full mobility across the shoulders. The catch? The chest zipper can take a little more maneuvering to get in and out of.
Zip Free
Maybe zippers just aren't your thing at all. Some wetsuits are built with zipperless entry systems and can be stepped into through the head hole and pulled up over the body. These are tricky to get in and out of so are best to avoid if you are just starting out but ideal for more experienced surfers. Zipperless entry does allow for the warmest, lightest and most flexible suit and an added bonus is no hardware to rust or malfunction.
What Should Women Wear Under a Wetsuit?
Most people go nude under their wetsuits. If you're not comfortable with that or worried about chafing, a one-piece swimsuit or a surf bikini are also good choices. But remember, less is more. You don't want to wear anything bulky that could retain water or weigh you down.
How To Pick the Right Women's Wetsuit Thickness?
Wetsuits range from 1 millimeter to 6 millimeters and the recommended thickness of your wetsuit depends on the water temperature you'll be surfing. 1mm is intended for warm water and offers the most mobility whereas 6mm offers maximum warmth for frigid waters. When picking the right thickness for your wetsuit, consider the water temperature and the season. Are you finding gentle lines of swell on a sunny summer day in Byron or is it a windy, choppy winter day in the Pacific Northwest?
What Is the Best Wetsuit Material?
The best wetsuit material is one that meets your needs. While neoprene is the standard exterior fabric for nearly all wetsuits, brands personalize their designs with unique blends of internal jersey, foam core, and outer jersey. Some combinations are designed for pure performance whereas others will focus on value.
Women's Surf and Wetsuits Accessories
You're going to need more than a winter wetsuit if you want to surf in freezing conditions.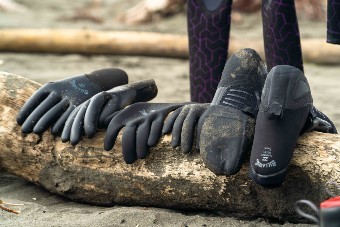 Wetsuit Boots and Gloves
Hands and feet: These are critical areas of the body to keep warm while surfing. Therefore, round out your cold water kit with wetsuit boots and gloves.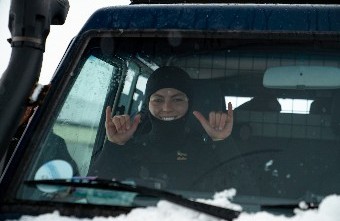 Wetsuit Hood
Head: If you're not surfing in a winter wetsuit with a built-in hood, you'll need to top off your suit with a wetsuit hood to protect your head from the elements and brain freeze when ducking under waves.
Shop Surf Accessories